'The Danish Girl' Trailer Shows Good Intentions Toward Trans People. Is That Enough?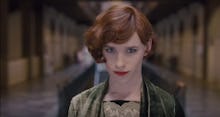 The trailer for The Danish Girl, released Tuesday, introduces the world to Lili Elbe and her wife, Gerda Wegener. Elbe was a transgender woman and one of the first recipients of transition-related surgeries, which she received over a course of two years starting in 1930 in Germany.
While the movie won't come out until November, the film, like the book it's based on, will focus on Elbe's journey to articulate her true identity. The outline of the narrative is there: She finds the words and movements to live an authentic life. She discovers herself.
And she's played by Academy Award-winning actor Eddie Redmayne. 
It all starts with a painting. The trailer shows Wegener requesting Elbe model for her to finish a portrait of a girl wearing a white dress. When Redmayne's hands brush across a dress given to Elbe to wear for a portrait, the electricity is palpable. To Elbe, this feels right. 
But for some, the dress is just that: a costume that Redmayne, portraying Elbe, has the luxury to take on and off. Transgender people are not cisgender people in a dress. That Redmayne can leave the experience of being transgender behind after the cameras have finished rolling is significant. 
The first production still of Redmayne as Elbe was released in March, the day after he won the Oscar for his portrayal of Stephen Hawking in The Theory of Everything. Many transgender people and their allies were quick to question why Redmayne was chosen for the role over a transgender actress.
Intention may not be everything. Redmayne met with multiple transgender people, including journalist Paris Lees, director Lana Wachowski and model April Ashley to prepare for the role.
Redmayne said he knows that going into this role as a cisgender actor is a huge responsibility. "I felt like, I'm being given this extraordinary experience of being able to play this woman, but with that comes this responsibility of not only educating myself but hopefully using that to educate [an audience]. Gosh, it's delicate. And complicated," Redmayne said in Out's August issue. 
He understands his cisgender privilege, but was he wrong in taking the role? Can we applaud the articulation of cisgender privilege without any subsequent work to dismantle it?
Director Tom Hooper told Screen Daily he considered transgender actors for the role and cast other transgender actors in the film, but still was "passionate" about casting Redmayne as Elbe. 
"I felt that there was something in him that was drawn to the feminine," Hooper said to Screen Daily. "That was something that I felt he might be interested to explore further."
With all the excuses being made to justify Redmayne's casting, you have to wonder: Would the filmmakers — and the film industry in general — fight as hard to get a trans actress in the role? If Redmayne and the filmmakers understand the appeal of his feminine and masculine qualities could they also look at a transgender actress's masculine and feminine qualities as assets, rather than hindrances? 
Exploring what it means to have a trans body without showing a trans body: Susan Stryker, a transgender historian and filmmaker who consulted with Danish Girl's filmmakers, called Redmayne's casting a "missed opportunity" in an interview with Think Progress. She also said she wasn't totally on board with some of Redmayne's comments regarding why a trans actress wouldn't work in the production. In an interview with the Telegraph, Redmayne said a trans woman could not play the part because Elbe did not have access to hormones.
However Stryker counters that casting cisgender actors in trans roles perpetuates the idea that a transgender person can never "pass" for anything other than their assigned-at-birth sex. 
Fyodor Pavlov, a transgender artist, said in a Facebook post provided to Mic, "Casting a cis actor to play a trans role for the sake of 'pre-transition authenticity does not credit a trans person's story or tell it respectfully. It encourages the cultural obsession with trans people's bodies, and perpetuates the often harmful emphasis on biological transition. Also pre- and non-medically transitioning trans actors exist. Hire them to tell our stories." 
Films are art, but Hollywood is a business. In the real way that many Hollywood films deal with difficult narratives from marginalized populations, The Danish Girl is at the intersection of exploration, narration and exploitation of a true story. 
The point of a movie is to make money for a studio. In fact, the movie may not have even been greenlit without Redmayne's involvement, as recognizable stars are often key to getting a movie made. 
Perhaps trans people and their allies are anxious about The Danish Girl because we've seen this sort of thing happen in recent memory. When Jared Leto played HIV-positive transgender character Rayon in the movie 2013 Dallas Buyers Club, many in the transgender and HIV communities criticized Leto for not mentioning the real struggles of transgender people and HIV-positive people in his early awards-season speeches. When Leto won the Academy Award for best supporting actor, he dedicated it to the 36 million people worldwide who lost the battle to AIDS, and anyone who had ever experienced injustice for being who they are. 
However, for those who are transgender or living with HIV, there is no sparkly award to be won or speech to be given.
Our stories are precious. The hesitation to allow Hollywood to profit from a story like this is not a dig at the talent of the creative team. Hollywood is not always the safest place for marginalized people's stories. 
The film is set to open Nov. 27, a week after Transgender Day of Remembrance, an annual observation of those lost to violence against transgender people. On this day, community members will share stories of those who we have lost in the last year. These transgender people were hated just for existing.
If we can acclaim Redmayne for his as-yet-unseen bravery in his portrayal of a transgender woman, we can applaud transgender people for the bravery they exhibit for being themselves — without the reality of a check or the promise of an accolade.  
David Ebershoff, who wrote the novel that was The Danish Girl's source material, wrote in the Advocate that Elbe's story is one "of art, of creating of imagining what is to be. It is about artists who interpret the world, and themselves, through their art," he said. "An artist sees that which does not yet exist. He or she imagines a future others cannot perceive. The artist interprets reality, making it even more vivid and lasting.
"Lili was an artist — her greatest creation was herself. She imagined a future life and did everything she could to create it."
In that way, who can fault Redmayne for his attraction to the role? As an actor, as one who creates with his body, Redmayne may have jumped at the chance to play Elbe, to remember her through film. 
But, if the role of an artist, as Ebershoff states, is to imagine a future others cannot perceive, perhaps the film's creators can try to envision a future for the film industry that includes the communities they aim to represent. Right now, many opportunities for transgender actors and actresses do not exist. But, with some creativity and courage, those in Hollywood can highlight transgender talent to make it vivid and enduring.