'Daily Show' Host Trevor Noah Promises Colleagues "Nothing's Gonna Change" in Funny Promo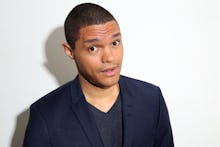 In just four short weeks, Trevor Noah is expected to make his Daily Show takeover official with the Sept. 28 premiere of The Daily Show with Trevor Noah. Comedy Central released a new promo for the revamped comedy news program on Tuesday. 
The video features Jordan Klepper, Hasan Minhaj and Jessica Williams of The Daily Show's satirical Best F#@king News Team Ever trying to make Noah feel a little more at home. 
"Wanna bowl me a few googlies?" Williams asks Noah, referring to a move used in the popular South African sport of cricket.
"Or we could scrum down," Minhaj muses, a reference to rugby. 
Noah reassures them that nothing's going to change now that he's leading the show. 
Williams responds with a metaphor about a zebra, which you may or may not be pronouncing correctly.
Comedy Central chose the 31-year-old South African comedian to helm The Daily Show after its former host of 16 years, Jon Stewart, stepped down in August. 
Noah recognizes that he'll have big shoes to fill in Stewart's absence. "No one can replace Jon Stewart," Noah tweeted back in March, ABC News reported. "But together with the amazing team at The Daily Show, we will continue to make this the best damn news show!"
Watch the full trailer for The Daily Show with Trevor Noah here: