Alabama Shakes' Brittany Howard Just Surprised the World With a New Project: Thunderbitch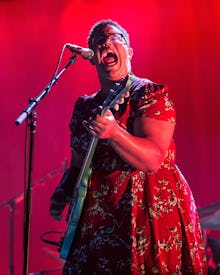 Just when the world thought Brittany Howard couldn't get any more badass, she throws on a leather jacket and becomes Thunderbitch. 
Alabama Shakes' dynamic frontwoman surprised the world Tuesday evening by releasing a debut solo LP, free to stream under her glorious new name. "Thunderbitch. Rock 'n' roll. The end," is how Howard's Thunderbitch bio reads. That's all there really is to it: 10 tracks of the most hard-hitting, in-your-face rock 'n' roll one can hear today, sung by a woman who could become the genre's next true matriarch.
She already revitalized blues — rock is next. Alabama Shakes stretched American blues traditions to their limits on their last album, Sound & Color. Thunderbitch doesn't have the same genre-bending appeal, but what it lacks in innovation it makes up for in raw power. 
Howard shared word the project was coming back in June. "It's a bit like Meat Loaf," she told NME. "It's about a rock 'n' roller who kills herself in the bathtub and the devil appears and is like, 'I can give you eternal life if you wear my leather jacket, but you've got to rock 'n' roll all the time.' She puts on the leather jacket and she has an endless hunger to rock 'n' roll. If she takes the leather jacket off she disappears." 
That story is told on the album's first track, "Leather Jacket." "I never should have put it on," she sings. "They said it would change me / Look how it changed me." 
The band includes members of Nashville acts Fly Golden Eagle and Clear Plastic Masks. The group played an epic set at a hot wings joint in 2012, according to Nashville Scene. "Howard, who's gifted with an otherworldly howl, knows how to hold a crowd in the palm of her hand, and the songs were as loud, messy and party-bolstering as any of us had hoped," the publication wrote.
Thunderbitch seemingly doesn't have any shows planned for the future. The tour section of the Thunderbitch's page reads in a similarly terse fashion as their bio: "Maybe someday...?" Fans who love their rock dangerous and sloppy will have to wait and see.
h/t Rolling Stone