This Powerful Lipstick Tutorial Shines a Light on the Reality of Acid Attacks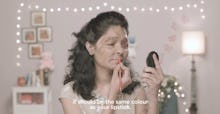 "How to get perfect red lips" is a solid instructional video, with a clear step-by-step process for applying long-lasting lipstick. 
But there's a more important reason to watch it: The woman walking you through the video, Reshma, is an acid attack victim, and she has a message that goes beyond makeup tips.
Exfoliate your lips, then apply lip balm, fill in with lip liner, then swipe on that lipstick, Reshma says. Then:
"Finally, the most important tip. You'll find a red lipstick easily in the market just like concentrated acid. This is the reason why, every day, a girl becomes a victim of an acid attack." 
The group behind the video is Make Love Not Scars, a Dehli-based organization fighting to raise awareness of and ultimately end acid attacks and "gender-based violence." According to the Acid Survivors Trust International, around 1,500 cases of acid attacks are recorded around the world each year.
As Reshma states at the end of the video, one objective is to enforce the ban on the open sale of acid. In India, where reports of these attacks are on the rise, there is a ban in place of over-the-counter sales of acid, thanks to a 2013 Supreme Court decision there. 
But the ban is widely ignored; according to DNA India, "acid is being sold openly by the vendors on roads and by going door to door also ... the vendors even use a loudspeaker to woo people to buy acid." 
The "beauty tutorial" won't necessarily reach stuffy lawmakers in India, but it will reach plenty of people who know little about the problem. By using a makeup video to drive the message home, as other causes have cleverly done, the message is not only plain to understand, but also made real: These are real women, with real voices and passions and, yes, makeup skills. 
Watch the full video below:
h/t BuzzFeed