Obama and Bear Grylls Take Selfie on Set of Survival Show 'Running Wild'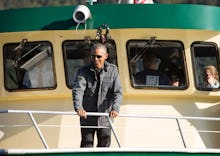 President Barack Obama, the United States' first social media president, has taken the selfie to whole new heights. Among the White House's latest Instagram posts is a photo of Obama with survival expert Bear Grylls, and their selfie in the Alaskan wilderness is pretty epic. 
The photo depicts Obama and Grylls on a gravel slope in front of one of Alaska's many glaciers. The caption reads, "Glad this was the only Bear I met in the park," and is signed "-bo," indicating that Obama himself composed it.
The leader of the free world was on a trip to "the last frontier" to get a taste of the great outdoors. The selfie was taken on the set of Running Wild With Bear Grylls, a reality series in which Grylls takes various celebrities on wilderness adventures and teaches them the ropes of surviving the elements. 
Obama was the latest high-profile guest to get survival training from Grylls, whose done everything from squeezing and drinking water out of elephant dung to eating a live snake. 
"I will not deny your suspicion that there may have been some suggestions put forward by the Bear Grylls team that were not approved by the Secret Service," White House press secretary Josh Earnest told reporters Monday, USA Today reports. 
Obama's adventure with Grylls is expected to air on NBC later this year. 
While in Alaska, the president has hiked trails, marveled at glaciers and made an important point about global warming. Referring to a sign marking the 200-year recession of Exit Glacier in the Kenai Mountains, Obama said, "This is as good a signpost of what we're dealing with when it comes to climate change as just about anything," the New York Times reports.