Ellen Page Says Making 'Freeheld' Is What Drove Her to Come Out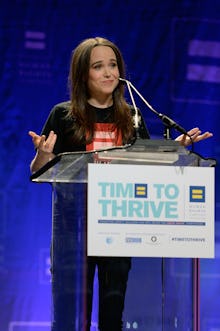 What makes a long-closeted celebrity finally decide to tell the world they're queer? For Ellen Page, it was about two things: her work and her privilege.
Covering the new issue of Out magazine with her Freeheld co-star Julianne Moore, Page talked at length about her own coming-out process. The actress said attaching herself to Freeheld while closeted made her feel hypocritical. "I remember thinking, 'Ellen, how in God's name could you make this film and not be out?'" she told Out.
Freeheld is an adaptation of a 2007 documentary of the same name. Both tell the story of Laurel Hester and Stacie Andree, a real-life couple who fought to have Hester's pension benefits from her work as a police officer passed to Andree after her death. Page worked for years to get the film made, only truly making progress after coming out in a Human Rights Campaign event speech in 2014.
What ultimately made Page's decision to break down the closet door, however, was a realization of her own power and privilege. "Dude, just tell people you're gay," she said she told herself. "Just get over yourself, honestly, and support those who are not as privileged. It's like, 'You have fucking privilege, so do something with it.'"
Page's comment is reminiscent of Caitlyn Jenner's own as she accepted an ESPY award this past July. The two women are emblematic of a new kind of celebrity coming out: one cognizant of privilege and attempting to use it in the most beneficial way for others.
For her part, newly minted Oscar winner Moore said she was inspired on set by Page's bravery, learning quite a bit about what it is to be closeted. "This is going to sound silly, and hopefully not hurtful on my part, but I don't think I was aware of how painful it is to be closeted," she told Out. "I have the advantage of being a person who's never had to hide my sexuality, so I asked her a lot of questions — frank questions — about what that feels like. She said she felt discomfort simply wearing all these dresses, and it was all very eye-opening for me."
We'll get to see the results of their collaboration when Freeheld premieres Oct. 2. Watch the trailer below.