Freddie Gray Hearing: Baltimore Trial News, Updates, Protest Photos and More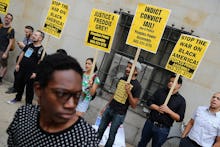 Defense attorneys for the six Baltimore police officers facing charges for the death of 25-year-old Freddie Gray   ranging from involuntary manslaughter to second-degree assault appeared in court Wednesday for the first in a pair of pre-trial hearings, the Baltimore Sun reports. A judge's decision on motions submitted during the hearings will determine how the Baltimore officers' trial would proceed. 
The officers facing charges in Gray's death in April are Officers Caesar R. Goodson Jr., Garrett E. Miller, Edward M. Nero and William G. Porter, Lt. Brian W. Rice and Sgt. Alicia D. White. All six defendants have pleaded not guilty. 
Defense attorneys have asked Judge Barry Williams of the Baltimore City Circuit Court to allow the officers to be tried individually and to move the trial outside Baltimore, where they say a jury would be less partial given the intense media presence in the city in the wake of Gray's death, the New York Times reports. 
Williams denied the attorneys' request to have the charges against the officers dropped, as well as a motion to have an outside prosecutor handle the case instead of Baltimore State's Attorney Marilyn J. Mosby, the Baltimore Sun reports.  
The trial of the so-called "Freddie Gray Six" is expected to begin in October. 
What happened to Gray? The officers' trial stems from Gray's mysterious death nearly five months ago while he was in police custody. An investigation revealed the 25-year-old died from a severe spinal injury incurred on April 12 after officers handcuffed him, shackled him by his feet and left him in the back of a police van while officers made several stops. 
"The findings of our comprehensive, thorough and independent investigation coupled with the medical examiner's determination that Mr. Gray's death was a homicide ... has led us to believe that we have probable cause to file criminal charges" against the officers, Mosby told reporters in May. Her office first filed charges against the officers in May. 
Gray was unarmed when officers arrested him. The killing tipped off more than a week of unrest in the city. 
Protests continue: About 50 demonstrators gathered outside the Baltimore City Circuit Court to demand justice for Gray. "Freddie Gray didn't have to die!" demonstrators shouted, CNN reports. 
Police made at least one arrest Wednesday morning, the New York Times reports.
Correction: Nov. 30, 2015