Barbara Mikulski Announces Support of Iran Deal, Ensuring Its Survival in Congress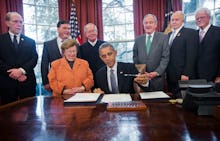 Game over. President Barack Obama has secured enough support in the Senate for the Iran nuclear deal to survive. 
On Wednesday morning, Maryland Democratic Sen. Barbara Mikulski became the latest senator to announce her support of the Iran nuclear agreement, which places limits on Iran's nuclear activity in exchange for world powers lifting sanctions. The president needs 34 votes in the upper chamber to prevent Congress from overriding his expected veto of an upcoming resolution against the deal.
Mikulski is the longest serving woman in congressional history and will retire at the end of her current term. She laid out her rationale for supporting the Iran accord in a lengthy statement.
"No deal is perfect, especially one negotiated with the Iranian regime," she said, echoing the Obama administration's argument for the accord. "I have concluded that this [deal] is the best option available to block Iran from having a nuclear bomb. For these reasons, I will vote in favor of this deal."
Mikulski acknowledged concerns about the deal, specifically those of the Jewish community, members of which have been the fiercest critics of the agreement. Opponents claim the deal would put Israel's security at risk and pave the way for Iran to build a nuclear weapon.
"Congress must also reaffirm our commitment to the safety and security of Israel," she said.
Where the deal stands in Congress: Mikulski was one of the last Democratic holdouts in the Senate to announce whether they supported the deal. On Tuesday, Sens. Bob Casey of Pennsylvania and Chris Coons of Delaware became the 32nd and 33rd senators to announce they would vote for the deal. Only two Democratic senators have said they oppose the accord: Sens. Chuck Schumer of New York and Bob Menendez of New Jersey.
Congress is expected to vote on a resolution of disapproval of the deal, known as the Joint Comprehensive Plan of Action, by the end of the month. It is almost certain to pass, in which case Obama would veto the measure. He would then need the support of one-third of the Senate to prevent Congress from overriding his veto — leaving the magic number needed for the deal to survive at 34.
Opposition to the deal in Congress has been steadily eroding, with Senate Majority Leader Mitch McConnell admitting last month that Obama has "a great likelihood of success" in seeing the agreement survive congressional disapproval.
With Mikulski's support, Obama has secured victory in accomplishing that one of the chief foreign policy goals of his administration. Now the question becomes whether the agreement accomplishes the goal of preventing Iran from developing a nuclear weapon.