Malala Yousafzai New Movie: 'He Named Me Malala' Documentary Premiere, Trailers and More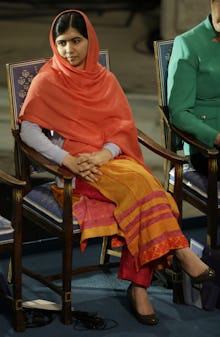 If Malala Yousafzai was an ordinary 18-year-old girl from Pakistan, she says she would have two children at this point in her life. 
"I tell my story not because it is unique," she says in the latest trailer for her upcoming documentary, He Named Me Malala. "It is the story of many girls."
The documentary, which explores Yousafzai's life and her impact on women's rights and international policy, comes out in theaters Oct. 2.
When she was just 14, a member of the Taliban shot Yousafzai in the head after boarding her school bus. The Nobel-prize laureate was writing a BBC blog under a pseudonym, detailing her life in the Swat Valley in the northwest of Pakistan. The gunman asked for her by name before firing three times. 
Yousafzai has gone on to become the youngest Nobel Peace Prize laureate in the history of the award, speak at the United Nations to demand worldwide education and create the Malala Fund, a nonprofit organization supporting rights and secondary education for women.
The film's title stems from the powerful name Yousafzai's father gave her at birth. She is named after Malalai of Maiwand, an Afghan woman considered a war heroine in her country.
The documentary also stars Yousafzai's father, Ziauddin Yousafzai, as well as her two brothers. Director Davis Guggenheim won an Academy Award for his 2006 climate change documentary An Inconvenient Truth.
National Geographic will air the film in 2016 in 171 countries and 45 languages, according to a Variety report.