CBS NFL Live Stream: Here's How to Watch NFL Games Online for Free This Season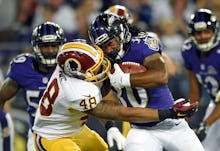 The quest to make the NFL available for online live streaming just took another big step forward. CBS announced Tuesday its plans to make certain games available online this season. 
The best part? It's totally free and won't require viewers to enter authentication, the network said. CBS's NFL live stream can be accessed here. 
The move is significant because options to watch games out of market have been severely limited for most NFL fans. The NFL currently broadcasts most of its games regionally, meaning displaced fans can only watch live games during prime time events like Monday Night Football, Sunday Night Football or Thursday Night Football. The other option has been to watch it through DirecTV's NFL Sunday Ticket, a nearly $270 package to watch on both TVs and devices during the NFL's four-month regular season. While this won't stop viewers from having to look into the Sunday Ticket option, it does signal a step forward for network providers to stream coverage of their games.
Sunday Ticket has a live online option but that option is only available for DirecTV subscribers. Another point of contention with DirecTV's NFL package is that it's an all-or-nothing proposition. Fans are not allowed to purchase single team packages, something that the NHL was sued over with their Center Ice package for hockey games.
CBS's live stream, unlike DirecTV, will not require authentication with a cable provider. The move comes months after Yahoo got the rights to exclusively live stream the Jacksonville Jaguars playing the Buffalo Bills in a regular season contest, without broadcasting the game on television.
Most TV companies and the NFL understand the growing need to make all games available to fans and to have those games available online. CBS has taken a significant step forward in making that possible.