The Truth About Achieving "Beauty Standards," From the Beauty Counter Advisers Who Know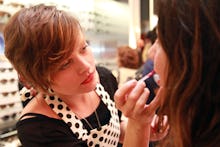 "I'm looking for..."
Bronzer? Blush? Foundation? Eh, maybe lipstick. Every day, women walk into department stores and Sephoras alike looking for some type of makeup that will help them achieve a certain kind of beauty. But they may not be certain what magical product they're looking for.
It's the beauty advisers, the women wearing the black smocks behind the counters, who provide the practical answers to the implicit question behind the "I'm looking for...": How can I look more beautiful?
Such a job leaves them with a deep understanding of the insecurities and goals of makeup shoppers. We often talk of "beauty standards" as if they're a single set of goals every woman is trying to reach; and indeed, most of us want to look good. 
But according to beauty advisers, several of whom Mic interviewed in Brooklyn, it seems every woman has an idea in her own head of of what "beautiful" means — something that's reflected in the makeup she buys. Someone who goes for the bold looks at the MAC counter, after all, has a different ideal about beauty than the woman who gravitates towards Clinique.
Here's what we can remember next time we shop for makeup.
No one really sees our "flaws" like we do.
Beauty advisers working at Macy's in Brooklyn described how customers often come in already having pinpointed a flaw they need to "fix." But, more often than not, it's something the customer and only the customer sees.
Zonaira Ali, a beauty adviser working the Elizabeth Arden counter, described to Mic a time a client asked another adviser for help. The adviser assumed she was seeking a fix for crow's feet, so he suggested an eye cream. The problem? The woman wasn't concerned about her eyes, Ali said.
It's in those moments that beauty advisers sometimes project their own views of beauty onto a client, and when it becomes clear that the "big flaw" on which women often fixate isn't quite so glaring after all.
What we think is beautiful is bound to change.
Certain beauty features are bound to gain widespread popularity. These days, makeup ads and YouTube tutorials would indicate it's about straight noses, narrow chins, defined cheekbones and glowing skin. But when you get down to the details, the advisers told Mic, they see multiple standards at work, which are largely defined by age.
"When I have younger crowds, they have a certain look that they're going for," Ali said. "They want to look like a certain celebrity." That means they've been requesting help with eyebrow powders and pencils to get "power brows" like those popularized by model/actress Cara Delevingne. There's also been an increase in requests for lip-liner pencils to get full lips à la Kylie Jenner, advisers told Mic.
Celebrity looks aren't such a concern for older women, for whom beauty starts to be more about youth and preservation. "Older clients are concerned with their skin, because they're not feeling as beautiful anymore," Ali said. 
Looking good and feeling good aren't always the same thing.
No matter what images we use to define "beautiful" in our heads, the truth is that achieving it isn't necessrily synonymous with feeling beautiful, or even feeling good about ourselves.
Diondra "DJ" Harp, who works the Estée Lauder counter, recalled a bride who asked her for help on how to conceal dark spots on her skin. The woman, she said, was so concerned about how her skin would look for her upcoming wedding that she was obsessed with finding a solution. Harp said she understood the woman's concerns, but couldn't help but wonder how much her worrying was weighing on her during a time of celebration. 
"She should be thinking about her future with her husband not whether she has dark spots," Harp said. "I feel like women are so insecure. Even if we look good, we don't feel good."
Ali said she constantly reminds her customers of this. Friends or family of clients often approach her after she completes a makeover to comment on how beautiful the client looks. Ali said her reaction, though, is pretty consistent. 
She tells clients, "No, you are already beautiful. We just enhanced what you are."