2016 Republican Candidates: Where Top GOP Poll Leaders Stand on Abortion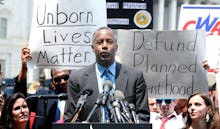 As presidential hopefuls gear up for the 2016 Republican primaries, where the top polling candidates stand on certain issues like gun control, immigration and abortion have come under increased scrutiny. 
Real estate tycoon Donald Trump, neurosurgeon Ben Carson, former Florida Gov. Jeb Bush and Texas Sen. Ted Cruz are primed to take the Republican party's nomination, according to RealClearPolitics. Perhaps unsurprisingly, they all agree on at least one thing: All four candidates are anti-abortion. 
Although a few of the Republican hopefuls have gone back and forth on the issue, it appears as though all four are ready to bring anti-abortion stances into the 2016 general election.
Here's what the top four GOP candidates in the race have to say on the issue:
Donald Trump: Trump says he was an avid supporter of abortion rights for women up until a few years ago when a friend's story changed his political views. In an interview with CBN's David Brody in April 2011, the billionaire businessman explained:
One thing about me, I'm a very honorable guy. I'm pro-life, but I changed my view a number of years ago. One of the primary reasons I changed was a friend of mine's wife was pregnant, and he didn't really want the baby. He was crying as he was telling me the story. He ends up having the baby and the baby is the apple of his eye. It's the greatest thing that's ever happened to him. And, you know, here's a baby that wasn't going to be let into life. And I heard this, and some other stories, and I am pro-life.
However, the top-polling GOP candidate didn't always oppose abortion. According to OnTheIssues.org, Trump told an Associated Press reporter in 1999, "I believe it is a personal decision that should be left to the women and their doctors."
Ben Carson: Carson's current political stance on abortion seems far removed from his stance when he was a pediatric neurosurgeon.
Although Carson supports defunding Planned Parenthood and is one of the most staunch anti-abortion advocates in the GOP race, Politico reports Carson referred pregnant women with birth defects seen in their fetuses to other doctors capable of providing them with abortions and even used fetal tissue in his research.
The former neurosurgeon has enjoyed surges in his polling numbers following a successful first debate and lack of attacks from Trump, the leading candidate. However, in a 1992 interview with the Baltimore Sun, Carson vowed he would never support making abortions illegal in the United States, saying, "I would never advocate it's illegal for a person to get an abortion. I think in the long run we do a lot of harm when we bludgeon people."
Jeb Bush: Bush has been asserting his anti-abortion beliefs throughout the GOP race, and his track record shows he has long been against the practice, not to mention stem cell research, according to OnTheIssues.org.
Not only is Bush taking an anti-abortion stance in the 2016 presidential election, but the candidate has insinuated in the past that women who conceive "out of wedlock" should be publicly shamed, the Huffington Post reports. In Bush's 1995 book Profiles in Character, he writes:
One of the reasons more young women are giving birth out of wedlock and more young men are walking away from their paternal obligations is that there is no longer a stigma attached to this behavior, no reason to feel shame. Many of these young women and young men look around and see their friends engaged in the same irresponsible conduct. Their parents and neighbors have become ineffective at attaching some sense of ridicule to this behavior. There was a time when neighbors and communities would frown on out-of-wedlock births and when public condemnation was enough of a stimulus for one to be careful.
Bush also alluded to an article the Miami Herald columnist Robert Steinback wrote, saying, "He suggests dressing these juveniles in frilly pink jumpsuits and making them sweep the streets of their own neighborhoods! Would these kids be so cavalier then?" Steinback since responded to Bush's point, telling the Huffington Post, "Until today, I was unaware that Governor Bush had cited my column on public shaming of juvenile criminal offenders in his 1995 book. ... I made no mention of using such a tactic with unwed pregnant teens. In fact, I would consider such a policy utterly horrific." 
Ted Cruz: The Texas senator is perhaps the most conservative candidate in the race when it comes to his views on abortion. Cruz is taking a zero-exception anti-abortion stance in the 2016 election, rejecting it even in the case of rape or incest. Cruz even finds contraceptives to be other forms of abortion, U.S. News reports.
A stark opponent of Planned Parenthood, Cruz made the following statement shortly after a controversial Planned Parenthood video was released, which shows just how opposed the senator is to the organization:
If I'm elected president, let me tell you about my first day in office. The first thing I intend to do is to rescind every illegal and unconstitutional executive action taken by Barack Obama.The next thing I intend to do is instruct the Department of Justice to open an investigation into these videos, and to prosecute Planned Parenthood for any criminal violations.
Most recently, Cruz encouraged lawmakers in his home state to pass a bill that would make it illegal for abortion facilities to provide assistance after 20 weeks into a pregnancy. "House Bill 2 is an important step that will strengthen protections of innocent, unborn life and improve the safety and health of Texas women," Cruz said in a statement. "I hope the Texas Senate will take swift action to pass this legislation for the good of all Texas children and their mothers."