Dan Savage Says Kentucky County Clerk Kim Davis Is Just Using Gay Marriage to "Cash In"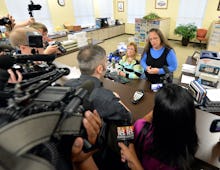 Kentucky county clerk Kim Davis has continued to defy the historic United States Supreme Court ruling in favor of same-sex marriage by refusing to issue marriage licenses to same-sex couples, and Dan Savage is having none of it. 
The gay activist and host of the "Savage Lovecast" podcast said Davis, whose dogged stance against same-sex marriage in the name of God has put a national spotlight on the Rowan County Clerk's office, was using the publicity to boost her image among religious conservatives — an image she'll eventually use to make money.
"I think Kim Davis is waiting to cash in," Savage said Tuesday night on MSNBC's The Last Word with Lawrence O'Donnell. "I predicted from the beginning that she would defy all the court orders, defy the Supreme Court, she would ultimately be held in contempt of court, lose her job, perhaps go to prison for a short amount of time." After that, Savage said, she'll write books about the whole ordeal and "will go on the right-wing lecture circuit and ... never have to do an honest day's work ever again in her life."
Savage's interview came the same day Davis refused a gay couple a marriage license for a third time, despite the Supreme Court's ordering Davis on Monday to start issuing licenses to all couples, the New York Times reports. Davis stopped providing licenses to all couples, same-sex or otherwise, shortly after the justices handed down their decision in June. Should she continue to turn people away, a federal judge could hold Davis in contempt of court.
Davis has maintained that her opposition to the Supreme Court's ruling is rooted in her Christian beliefs. "To issue a marriage license which conflicts with God's definition of marriage, with my name affixed to the certificate, would violate my conscience," Davis said in a statement released by her lawyers. "I have no animosity toward anyone and harbor no ill will. To me this has never been a gay or lesbian issue. It is about marriage and God's word."
On Tuesday, Savage used Davis to make a point about the separation of church and state in implementing U.S. law. "She thinks she works for God when she actually works for Caesar. Someone needs to acquaint her of that fact," Savage said. 
"Are we going to live in a society where we're going to empower people to break the law, to disobey the law, to walk off their jobs when they're public servants ... when something violates their religious beliefs?" Savage said. "We live in a pluralistic ... society and it would be utter chaos if everyone was empowered to incite God's authority to violate the law."