A Kurdish Pop Star Risked Her Life for an Anti-ISIS Music Video Shot 2 Miles From Rebels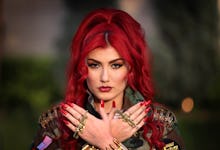 Pop artist Helly Luv is seemingly full of contradictions: She's outspoken about anti-violence, but fired a shell at an Islamic State group settlement while filming a music video. She was born in the conservative Iran, but leads a life in the West as a revolutionary pop star based in Los Angeles.
For her, music is political. This is why she insisted on filming the music video for her song "Revolution" in her ethnic home of northern Iraq, also known as Kurdistan, less than two miles from the frontline of the fighting. The video took three months to film and was shot in a small village nearly two miles from the IS-controlled city of Mosul, though filming was frequently halted due to IS-driven violence.
"As an artist my weapon is not guns; my weapon is my music," Luv told NBC. "If I can fight against them with my music, then my song is as powerful as or more powerful than their weapons."
Luv is a quintessential tale of overcoming the odds. Born Helan Abdulla, she began her life as a minority Kurd in Iran, but fled with her mother almost immediately after she was born to escape the aftermath of Saddam Hussein's Anfal campaign during the Iran-Iraq War, which, according to various estimates, left anywhere between 50,000 and 182,000 Kurds dead. 
"We were in Urmia, and the day after I was born, they wrapped me in blankets and put my mom on a horse and we traveled for months in the mountains, to go all the way to the Turkish border," Luv told Vice. "We paid a guy to smuggle us across the border; it was a very dangerous and horrible time."
The two of them stayed in Turkey for around a year, where they were homeless at first, after being turned away from a full refugee camp. Eventually, they were allowed to join the camp, before finding political asylum in Finland.
As a teenager, Luv worked and saved all her money until she could afford a plane ticket to Los Angeles. She moved there, aged 18, with dreams of becoming a pop star, she explained to Vice. After living in poverty, with little success and plans to return to Finland, Luv was discovered by producer Los Da Mystro via MySpace, leading to a development deal, which swiftly turned into a record deal with G2 Music Group.
The video. Luv's first big undertaking after signing with G2 was to bring attention to the plight of Kurds and Islamic State violence. She did this by writing songs like "Revolution," which brings attention to a region and people plagued with adversity and often overlooked. 
The first 2 1/2 minutes of the video are like a blockbuster movie. It begins with Kurdish villagers calmly sipping tea before a surprise attack sends them fleeing and scatters the ground with bodies. Luv defiantly emerges, ready for battle, and stops a tank in its tracks, raising a banner that reads, "Stop the violence."
"It's a revolution, we gon' keep on fighting / People all around the world, don't be scared / Come together, let 'em know we're ahead," Luv belts in the chorus. "Brothers and sisters, we all come from one / Different religions, we share the same blood."
During the video's shoot, Luv fired a live shell towards IS militia, she told NBC. Luv has received death threats from the group and is now on their "most wanted" list.
Risking it all. The controversy surrounding Luv didn't end with "Revolution." Her song "Risk It All" was divisive, as well. 
"'Risk It All' was inspired by what was going on with Kurdistan, because in 2013, Kurdistan was very close to independence," Luv told Vice. "This was before ISIS. ... We Kurds have a long, horrible, bloody history. 'Risk It All' is a celebration of that, risking everything for a dream. And the dream for Kurds is obviously independence."
The Islamic State group and other extremists didn't take kindly to her dancing in a miniskirt next to a lion in the desert, which is what brought on the first round of death threats.
Despite the threats, Luv won't stop her fight. She said she hopes the "Revolution" video will start a revolution.  "I want to spread the message we are all responsible for stopping war and stopping these militants," Luv told the Sunday Times. 
Her pursuit of pop and politics are not mutually exclusive. Luv told Vice she intends on touring as much as possible, while still fighting for social justice: "I want to do more humanitarian work — that's my passion, and I want to do so much more."