"100 Years of Lingerie in 3 Minutes" Showcases What's Sexy in Each Decade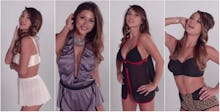 How can you tell what's sexy? You could check out the popular lingerie of the moment ... or, well, maybe don't.
The latest viral fashion video — "100 Years of Lingerie in 3 Minutes," created by Mode Video — gives a quick look at popular lingerie through the decades, spanning from 1915 to 2015. Model Arianny Celeste wears demure, white cotton skivvies in the early decades and transitions to silkier, sexier looks as the years pass.
There's one consistent factor: Lingerie trends seem to be heightened, sexier versions of what we actually wear in our real, normal, not-always-so-sexy lives. You know, when we want to be comfortable.
Case in point: the 2015 look.
Yeah, we're not quite sure who wears that sort of thing, either. But hey, it's a romper, and nothing's more 2015 than a romper. 
While the video's lingerie may be heightened versions of what we actually wear in the bedroom, these do follow clothing trends in both aesthetic and form. After all, thongs are only so necessary when women wear tight pants, while corsets become all the more important when your dresses are cinched to the hilt at the waist. 
The outfits in the video all strike overtly sexy notes rather than aiming for functionality (no minimizer bras or Spanx here). Each look reflects just one perspective on what's "sexy," showcasing the outfits on one woman and only bringing out a more diverse array of models at the end.
Lingerie, after all, is all about sexiness in utter privacy, meaning there are endless possibilities for what a woman and whoever sees her undress find appealing. And, of course, that changes over time.
1915:
1925:
1935:
1945:
1955:
1965:
1975:
1985:
1995:
2005:
Check out the full video below:
h/t Mashable