A Porn Website Is Giving Out a $25,000 Scholarship — And It's Not the Only One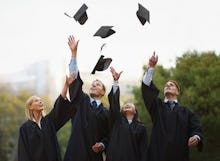 You don't have to actually do porn to get the adult industry to pay for your college tuition. Thanks to a new philanthropic effort from Pornhub, full-time students around the world will have the opportunity to earn a $25,000 academic scholarship. That's roughly equivalent to 25 guy-girl porn shoots, no on-camera penetration required.
Applicants to the Pornhub Cares Scholarship simply have to tell judges in a 1,000-word essay how they achieve Pornhub's main goal ("making people happy") in their everyday lives, without any "adult" requirements for entry. (There is an optional video portion, however, so it's possible that X-rated applications are technically still in play.)
"The Pornhub Cares Scholarship is for that deserving student who has demonstrated a combination of academic achievement and community leadership, who is interested in making the world a better place," Corey Price, Pornhub's vice president of marketing, told Mic. "We want to provide for future innovators and leaders and this is a step in that direction."
Pornhub isn't the first XXX website to dip a toe into the world of higher ed. Though Pornhub promises it's legitimate, the philanthropic endeavor is likely a PR play, given its numerous mainstream branding efforts. Either way, Pornhub Cares marks the site's first foray into funding higher education — but it isn't exactly blazing a trail in the adult world.
Other sex industry mainstays, such as the recently raided male escort site RentBoy.com and porn star Mercedes Carrera, have also established "porn scholarships" to help students cover the insane cost of college. Each has its own bend: RentBoy offered a $1,500 prize to male students who also work in the sex industry, while Carrera, a former aerospace engineer, live-streamed a sex show to raise money for STEM scholarships. 
"Today's escorts and porn stars may become tomorrow's programmers, lawyers, and innovators who will take the adult industry into the next generation of apps, cams, and provider/client verification software," Rentboy COO Hawk Kincaid said in a press release. "But this isn't about the adult industry educating its own cohort group. The fact of the matter is that large numbers of students are already turning to sex work to help pay for tuition, room and board, and long-term student loan bills."
Fundraising for fucks' sake: Although Pornhub's initiative is aimed at students rather than sex workers, these academic opportunities don't highlight the fact that an estimated one in five students considers engaging in some form of sex work to pay exorbitant tuition fees, or that 5% actually do. Offering porn scholarships could also provide an air of mainstream legitimacy for the highly stigmatized sex industry.
The social cost of becoming a sex worker can often be high enough to negate the benefits of being able to pay for school. When Duke University student Miriam Weeks, aka Belle Knox, was "outed" as a porn star, she faced extreme harassment ranging from calls for her to drop out of school to rape and death threats. That sort of violent slut-shaming is commonly directed at sex workers, whether they're students or not. 
Inserting sex into conversations about the inflated cost of higher education and obscene amounts of student loan debt might seem like a bold PR grab for a cynical brand. But such philanthropic efforts are clearly intended to legitimize the industry as a force for good. 
That's especially true for the performers who help keep business booming, who are too often not treated like human beings. But it's also true for the generation of millennial students wondering how or if they'll ever really be able to pay for college — which happens to be the same group of people most eagerly consuming all the content Pornhub has to offer.
h/t The Daily Beast