Apple iPhone Hack: How to Know if Your Information Was Compromised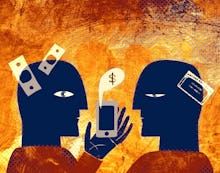 If you've ever used the popular jailbreaking tool Cydia to unlock your iPhone, your Apple account might be compromised in what is possibly the largest iPhone data hack in history. 
Tech security company Palo Alto Networks announced earlier this week they discovered the hack when amateur Chinese tech group Weiptech was investigating changes to Apple accounts from a third-party server that was collecting and saving personal information. 
The hack, which only affects iPhones that have been jailbroken using Cydia, was the result of a malware virus known as "KeyRaider," which is capable of stealing a user's personal information and allowing anyone to make purchases with that user's credit card information.
Since then, Weiptech and Palo Alto Networks have created a free tool for anyone worrying about their account security to check if their accounts are included in the hack. 
While Weiptech's informational tool is entirely in Chinese, it's rather easy to use: Enter any email address associated with an Apple account, and the tech team's response will indicate whether the address is associated with any of the 225,941 compromised accounts. 
The website response can be translated via a number of free translating services, including Google Translate.
The data breach comes during a string of high-profile hacks responsible for releasing private information from a number of companies and websites, including the Ashley Madison leak that exposed over 30 million cheating partners to the world.