The Next Major Hip-Hop Biopic Should Celebrate Missy Elliott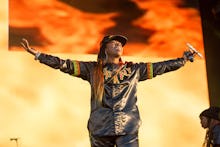 When Straight Outta Compton debuted, the country witnessed the strength of street knowledge. The film made a killing at the box office, drove sales and streams of N.W.A's music through the roof and inspired pages of criticism unpacking the significance of N.W.A's contributions to hip-hop.
However, equally as important as the movie's narratives are those the filmmakers chose to leave out. The most debated of these were Dr. Dre's attacks on journalist Dee Barnes and his girlfriend Michel'le.
Misogyny and sexist violence are parts hip-hop's legacy. We can't ignore them or pretend they will simply disappear on their own. Hip-hop lives and grows through the artists who define it. That's why we need to hear from an influence whose personal tale reflects this — and nobody's story does so with more disturbing detail than the first black woman entertainment mogul, Missy "Misdemeanor" Elliott.
Elliott's story picks up with all that Straight Outta Compton left out. The landscape of the industry Elliott faced while building her career is entirely different from the one we know today. A major reason today's music is more tolerant of artists with diverse narratives and styles is because of the changes she forced.
Even before she entered music, Melissa Arnett Elliott was the victim of gender-based violence: She grew up in an impoverished home in Portsmouth, Virginia, where she witnessed her father regularly beat her mother. Elliot also suffered an entire year of sexual abuse when she was 8 years old at the hands of her 16-year-old cousin.
"Being molested ... it don't disappear," she revealed in a VH1 Behind the Music special.  "You remember like it was yesterday." 
Her music became her means of coping. "Everything that I went through as kid, it was like music was my outlet," Elliott told VH1. "I always had this wild imagination. I said, 'One day I'm going to become famous and rescue my mother, I'm gonna get my mother out of this situation.'"
Eventually, Elliot convinced her mother to leave their toxic home life. One day, while her father was at work, they packed up their car and never looked back. "When we left, my mother realized how strong she was on her own, and it made me strong. It took her leaving to realize," Elliott told the Guardian in 2003. That strength would help her tremendously as she faced a new monster: the music industry.
From the get-go, Elliott struggled to get her talents recognized. She didn't fit the industry's highly cynical and hyper-sexualized beauty standards, causing executives to be hesitant in putting her front and center. When she earned her one of her first major songwriting spots, writing for a young Raven-Symoné, then a child star on The Cosby Show, executives did not invite Elliott to appear in the music video. 
"Nobody even told me they shot the video," Elliot shared with VH1. "I heard later, 'You didn't quite fit the image that we were looking for.'" 
VH1 replaced Elliott with a thin, light-skinned woman instead.
"They'd broken my heart," Elliott told the Observer, looking back at that part of her career. "They said I could sing, I could write, but that I looked wrong. That was the lowest thing you could say. I didn't forget." 
She changed her focus to begin working more behind the scenes, writing hits for other rising stars with songwriting partner Timbaland. But after scoring a No. 1 single for writing Aaliyah's "If Your Girl Only Knew," the record companies that had once put her aside flocked back. This time around, they were more confident in her talents. 
She held out until one company, Elektra Records, offered her full creative control of her own label. With the birth of Goldmind Records Inc. came the dawn of the world's first black female entertainment mogul, against all odds.
She built an entirely new sound for hip-hop. With her first single and video for "Rain," Elliott mocked the industry's concern with her size by dancing in an inflatable garbage bag filmed through a fish-eye lens. With "Minute Man," she encouraged women to demand satisfaction from sexual experiences.
Through her music, she encouraged other women to look past perceived obstacles and seek both economic and emotional independence. 
"Ain't no shame ladies, do your thang / Just make sure you're ahead of the game," Elliott spit on "Work It." The lines were a perfect summation of the new attitude Elliott introduced to hip-hop — one we need to see more.
Music biopics have been devoid of strong female subjects for years. Straight Outta Compton set us back in terms of fair representation for women in the creation of musical legacy. The vast majority of musical biopics have focused on male artists — Jimi Hendrix, Notorious B.I.G., Kurt Cobain, Bob Dylan, Johnny Cash. Even the recent Amy Winehouse documentary overlooked the singer's artistic achievements to instead explore her story as a case study for tabloid culture.
Interviewers have tried to pigeonhole Elliott the same way, but she's resisted. "When interviewers ask me who I'm sleeping with or if I don't like such-and-such or what is my sexuality, that's not beneficial to the world," she told Interview magazine. "They need to ask me about stuff that may help readers, like how my father abused my mother for many years. A lot of kids go through that and need to know what they should do."
Elliott's story is an inspiration. It's a perfect portrait of the kind of resilience all entertainers should use to respond to their detractors. If a Missy Elliott biopic were to slay at the box office, we could soon see a flood of other empowering female stories: a new biopic for Aaliyah, perhaps, a story for Lil' Kim or Lauryn Hill. The sooner the narratives reach the masses, the better.