This Is What Happened When a Makeup Company Debuted 'Harry Potter' Lipstick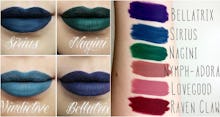 #BreakTheInternet.
That's essentially what happened when the Internet discovered the existence of Harry Potter-themed lipsticks. 
One week after makeup lovers started Instagramming the collection of liquid lipsticks, which come in colors like "Ravens Claw" and "Sirius," indie makeup brand LA Splash Cosmetics is facing waves of orders and site traffic like never before.
Shoppers on Facebook noted that "the site kept crashing due to high traffic for the Harry Potter write-ups," and that certain colors like Bellatrix were quickly sold out. 
The brand also acknowledged the backup on Facebook, with shoutouts to the many articles in the press that drummed up excitement: 
The liquid-to-matte lipstick, which is a version of the brand's Smitten LipTint Mousse, has actually been in existence for months. But, like so many Internet trends, the lipsticks suddenly blew up one week ago, with beauty sites spotlighting the "magical" makeup collection and the Instagrammers who were rocking it.  
Which promptly awakened makeup lovers' inner geeks — as Nerdist wrote, "Accio These HARRY POTTER-Themed Lipsticks." In what's unquestionably a testament to the virality of Harry Potter, shoppers quickly crashed the site. (Mic reached out to LA Splash for more details.)
Also a testament to the diehard fan community around the Potter series: criticism from fans that the colors didn't accurately reflect certain characters.
Unbelievably, LA Splash has been keeping fairly good pace with the excitement, with shoppers testifying to prompt shipping times and only three colors — Ravens Claw, Ginny and the forest green Nagini — currently sold out on Shop-LASplashCosmetics.com. 
For the very determined diehards, the sold-out goods can dig them up on Amazon.
Or, in the meantime, nostalgic beauty lovers can keep themselves occupied trying LA Splash's new lipstick collection: Disney princesses. Get ready for the Internet to break all over again...