Your Favorite Nickelodeon Show From Your Childhood Could Be on Its Way Back to TV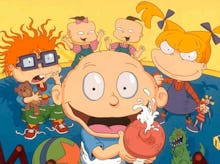 A fresh new season of Rugrats may seem like an easy sell for millennials yearning for youth. And Nickelodeon is doing just that.  
As first reported by Variety, the kids network is considering reviving a slate of its old programs, including Rugrats, Hey Arnold and more. However, the returning properties may not come back as traditional series. Instead, they may appear as one-off specials or TV movies. They'll serve as doses of nostalgia, not full servings.
Russell Hicks, Nickelodeon's president of content and development, indicated that while this won't be the company's focus, it is an intriguing side project. "We are looking at our library to bring back ideas, shows that were loved, in a fresh new way," he told Variety.
But what will Nickelodeon's actual core audience get out of this?
Nickelodeon's aim, it seems, is to hook in the audiences that grew up with these shows, who now have kids of their own. "We are getting ready to bring back some of the ones they've told us multiple times they want to have brought back," Hicks told Variety. 
Those children will then become a new audience for the channel's current and classic programming. It's a similar strategy to what the Disney Channel is currently doing with Girl Meets World, though that series stands as its own product.
This isn't the first time Nickelodeon has worked to serve its now-adult audience. Over on TeenNick, there's an entire block of reruns called "The '90s Are All That," which airs shows like Doug, Clarissa Explains It All and, yes, All That.
Currently, the plan is just in development, but it's quite exciting news to hear the network is considering. Nostalgia-plus — adding extra value to the return of previous properties — is the hottest trend in TV right now. Nickelodeon is wise to jump on the bandwagon.