Justin Bieber Reveals Why He Cried at the VMAs on 'The Tonight Show'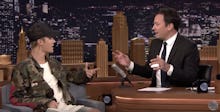 The pressure of having a string of bad days in front of the prying eyes of the public can get to our favorite celebrities, including Biebs. 
The "What Do You Mean?" singer, who broke down on stage after his MTV Video Music Award performance Sunday night, revealed Wednesday on The Tonight Show Starring Jimmy Fallon what caused his emotional on-stage moment.
Justin Bieber said he felt the support from his peers and the rest of the audience throughout his performance, which was the first in quite some time. Bieber said his last awards' show performance, the 2013 Billboard Music Awards, didn't go so well:
Fallon commended Bieber not only for working so hard on his performance for the VMAs, but for making big changes to his life. The two discussed Bieber dropping some of the "knuckleheads" from his pack of friends, as well as growing up in the limelight. "What makes a man, I think, is not how much he can fight but after you get knocked down, can you get up?" Fallon says to Bieber.
After Bieber's explanation, Fallon provided an alternative explanation as to why the singer might have been crying:
Check out the full interview below: