BB-8 Sphero Droid: Price and Where to Buy 'Star Wars' Toy on Force Friday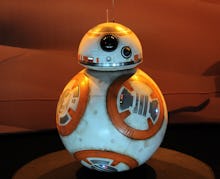 It's round, has a head that swivels and can sprint around the house or office with ease (though not without a few bumps and bruises). It's the new BB-8 toy droid from gadget manufacturer Sphero, and starting Friday, it could be yours.
In anticipation of the latest chapter in the Star Wars film universe, Star Wars: Episode VII: The Force Awakens, a bunch of new merchandise is going on sale to get fans of the film hyped for its Dec. 18 release. Walt Disney, which owns Lucasfilm, has dubbed the day "Force Friday." BB-8 is perhaps the most talked-about toy coming out of the new Star Wars movie. 
The toy is a replica of the film's BB-8 droid and looks and acts just like its onscreen counterpart. "BB-8 has something unlike any other robot — an adaptive personality that changes as you play," the official statement says, according to Polygon. "Based on your interactions, BB-8 will show a range of expressions and even perk up when you give voice commands." Users can set the toy to "patrol" to have it roam around autonomously, or they can guide it on their own using their smartphones.  
Like Sphero's other toy robots, a person's smartphone is a key component of interacting with BB-8. All of the droid's maneuvers can be manipulated via smartphone.
The BB-8 toy costs $149.99, the Verge reports. Consumers can purchase the tiny robotic roller at Apple retailers, Best Buy and through the company's website.
"Most Star Wars toys require a healthy dose of imagination to bridge the gap between what kids are holding in their hands and what they see in the movies," Gizmodo's Andrew Liszewski writes. "Lightsabers with blades made of plastic tubes? What a rip-off. But aside from its diminutive size, Sphero's miniature version BB-8 appears to perfectly replicate almost everything we've seen the new droid do, at least so far."
Watch a trailer for BB-8 here: