Sexting Almost Got a Teenage Girl Charged With Two Felony Counts Against Herself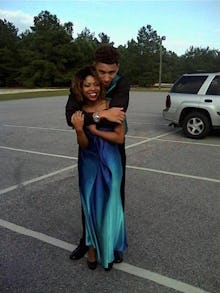 A teenage girl in Fayetteville, North Carolina, found herself both the "perpetrator" and the "victim" of the same crime earlier this year after she sent sexually explicit photos of herself to her boyfriend. 
Officials from the Cumberland County Sheriff's Office originally planned to charge 16-year-old Brianna Denson with two felony counts against herself for sexual exploitation of minor. The Kafkaesque situation potentially comes with real consequences. Had Denson been convicted, she would have faced prison and been required to be listed as a registered sex offender for the rest of her life for a crime she would have committed against herself, the Fayetteville Observer reported. 
To avoid that, Denson ultimately pleaded to a misdemeanor charge of "disseminating harmful material to minors." In July, District Court Judge Stephen Stokes sentenced her to, among other things, one-year of probation, a $200 fine, a class on how to make smarter life decisions and forbid access to a cellphone for the duration of her probation.
If all goes well, the local district attorney's office plans to drop the misdemeanor so Denson can move on with her life.
The same, however, has not been true for the man who received the photos, Denson's 17-year-old boyfriend, Cormega Copening. After being charged with five counts of sexual exploitation of a minor, he too now finds himself potentially facing jail time and lifelong status as a sex offender. His case is ongoing. 
Neither Denson nor Copening were available for comment. 
"That's crazy. That seems like overkill," psychologist Michelle Drouin of Indiana University-Purdue University Fort Wayne told the Fayetteville Observer. "It's becoming a way that people are initiating sexual contact with one another." 
Several studies have also lent support to the idea that prosecuting such offenses are sorely behind the times. In a 2014 study, Drexel University researchers found a majority of college students surveyed had sent similarly explicit material before they were 18. Like Denson and Copening, they were typically within the context of romantic relationships. 
How did this happen? At the heart of the problem are discrepancies between state and federal law regarding the age of consent. In a majority of U.S. states, including North Carolina, the age of consent 16. The federal government, however, defines child pornography as "any visual depiction of sexually explicit conduct involving a minor (someone under 18 years of age.)" At the federal level, child pornography charges typically carry stiff mandatory minimum sentences. The practical results of the incongruency mean that Denson and Copening can legally have sex in North Carolina, but it is illegal for them to send erotic photos between themselves afterward. 
Mic reached out to the Cumberland County Sheriff's Office, which was unavailable for comment.