Tropical Storm Kevin 2015: What Mexico Can Expect From Latest Pacific Ocean Storm System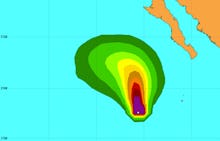 The Pacific Ocean gave birth to Tropical Storm Kevin early Thursday, about 505 miles southwest of the tip of Baja California, Mexico, the National Weather Service's National Hurricane Center reports. Thursday morning, the NWS predicted Kevin would move northward before eventually banking northwest, staying several hundred miles from Mexico's coast but bringing rain and thunderstorms to parts of the Baja California peninsula and southern California, AccuWeather meteorologist Eric Leister reports.  
The storm, part of a record Pacific Ocean storm season, was trudging north at 6 mph with sustained winds of near 50 mph, an increase from 40 mph earlier in the morning. A storm becomes a hurricane when its winds reach at least 74 mph. Weather officials said the storm could continue to strengthen throughout the day and would move north through Thursday. Storm officials have not yet issued any warnings or coastal watches, the center said. 
The storm will likely weaken over the weekend, curtailed by cooler Pacific waters and a strong wind shear, Leister reports. Meanwhile, a trio of hurricanes continued to churn in the Pacific. At one point, all three measured Category 4 on the federal hurricane intensity scale. The highest classification for a hurricane is Category 5. 
"The storms are being fueled by warmer waters caused by this year's El Niño, the global climate event that occurs every five to seven years, bringing drought to places like Australia, while heaping rain on the Western United States," Mother Jones reports. "Temperature anomalies in this part of the world are currently at their highest since 1997-98."
Last year, Hurricane Odile slammed into the Mexican resort town of Cabo San Lucas, damaging buildings, uprooting local residents and stranding tourists for several days.