Force Friday 2015: BB-8 Droid, Kylo Ren and Other 'Star Wars' Toys Coming Out Friday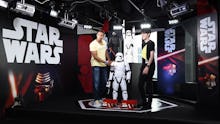 To the legions of Star Wars fans heading to stores Friday to experience a new line of franchise toys and merch: May (September) the Fourth be with you.
More than three months ahead of the film series' latest movie, Star Wars: Episode VII: The Force Awakens, stores will open at midnight to fans itching for the newest flock of Star Wars swag. 
Variety reports a number of the secret toys being released Friday have already been shown in a live streamed  unboxing event Wednesday afternoon. 
Spoiler alert: The new items reveal characters included in The Force Awakens. The BB-8 toy, an adorable droid, is set for release in the United States on Friday, priced at $149.99. The droid hooks up to an app on your phone, and "based on your interactions, BB-8 will show a range of expressions and even perk up when you give voice commands," Polygon reports.
Star Wars is also releasing a new line of action figures in collaboration with toy manufacturer Hasbro. The six-inch figurines include some of The Force Awakens' biggest names, including antagonist Kylo Ren (played by Adam Driver) and the film's hero, Finn (John Boyega). Captain Phasma (Gwendoline Christie) will also have an action figure unveiled Friday, along with new characters Rey (Daisy Ridley) and Poe Dameron (Oscar Isaac). 
Lego will also be unveiling a new line of Star Wars-themed products:
"There are always big movies every year, but this is the first time I've seen a product line launch three months before the film itself," Martin Brochstein, senior vice president of industry relations and information for the International Licensing Industry Merchandisers' Association, told Variety. The Star Wars franchise remains a force to be reckoned with; sales are poised to exceed $5 billion after the release of The Force Awakens.