Hugh Jackman Would Seriously Consider Playing James Bond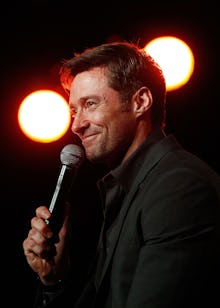 It seems as though becoming a secret agent is the most coveted job in Hollywood. In an interview with Australian news show The Project, Hugh Jackman said he would "seriously consider" taking on the role of James Bond in upcoming films — that is, of course, if Daniel Craig chooses to walk away at the end of his contract three years from now. 
"I will just wait. The thing about Daniel is that he's, what, 62 now, isn't he?" Jackman says in the interview, teasing his fellow actor. (Jackman is 46; Craig is 47.) "He's falling apart at the seams, so I just keep telling him, 'I'm ready, whenever you want to let him go'. The good thing is I also have a British passport."
Craig's latest Bond film, Spectre, opens in theaters Nov. 6.
Jackman isn't the only one going after his friend's highly sought-after job. Damian Lewis (Homeland) and Henry Cavill (Batman v Superman: Dawn of Justice) have been linked to possible bids for the Bond role, according to the Independent. 
Idris Elba, who has also been rumored for the role but was called "too street" by the current author of the Bond books, seems to have taken the controversy in stride.
Elba posted a screenshot from the news coverage of the controversial statement to Instagram, captioning the post, "Always Keep Smiling!! It takes no energy and never hurts! Learned that from the Street!! ???? #septemberstillloveyou"
What's more, Jackman actually turned down the role years ago, afraid he would become pigeonholed if he starred as Bond while also appearing as Wolverine in the X-Men franchise. "I thought it would box me in too much," he told the Hollywood Reporter in 2013. "My natural instinct is to keep as many doors open as possible."
Now it seems as though the tides are changing, and Jackman is considering throwing his hat in the ring. After George Lazenby's 1969 performance in On Her Majesty's Secret Service, Jackman would become the second Australian actor to take on 007.