2016 Republican Presidential Poll: Latest Results Give Trump, Carson Commanding Leads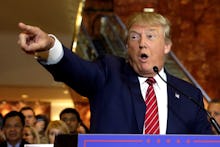 Republican presidential hopefuls jostling for voters' approval have had little success catching up to New York businessman Donald Trump, but at least one candidate has begun closing the gap. Neurosurgeon Ben Carson is now only 12 percentage points behind Trump, who leads at 30%, according to the latest polling from Monmouth University released Thursday. Carson trailed Trump by 21 points in August. 
Voters have increasingly seen Carson as an alternative to Trump as the Republican party's nominee. Both are Washington outsiders (a businessman and a neurosurgeon, respectively) who vow to shake up the establishment, as U.S. News & World Report has noted. In Iowa, public opinion polling from August showed the pair was tied for the lead when voters' first and second choice candidates were combined. 
Nationally, Wisconsin Gov. Scott Walker was the Republican primary field's biggest loser, slipping eight points from early August, Monmouth found. The governor was in third place last month, with 11% voter support, behind Trump and former Florida Gov. Jeb Bush. 
Here's where the top 10 Republicans stack in the latest polls: 
Trump has been the biggest elephant in the room this primary season, an elephant no other GOP candidate has yet budged. 
"None of the establishment candidates is having any success in getting an anti-Trump vote to coalesce around them," Patrick Murray, director of  the Monmouth University Polling Institute in West Long Branch, New Jersey, said in a statement. "In fact, any attempt to take on Trump directly only seems to make him stronger."
Six of the candidates running in the 17-member Republican primary field scored no higher than 1% each, according to Monmouth University.