7 Amazing "New" Things White Women Learned From Black Women About Hair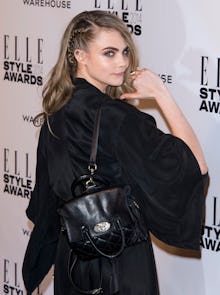 Hair can be fun, and celebrating all the fun things you can do with hair can be fun too! 
But hair is rarely "new." It has existed on humans since, well, the beginning of humans, so it's unlikely that anything you're doing with yours this "season" hasn't already been done many times before, no matter who you are.
Sorry.
Here's where stuff gets more complicated. Racism in the United States has let white people render cultural contributions from black Americans invisible often enough, making cultural appropriation a hot button topic of debate in many spaces, including hair.
When white women claim hairstyles and practices that black women have been using for years as their own, or that they are "new," it is not just "theft" — though it can be. Rather, it is part of a pattern of white people ridiculing, pathologizing, or inappropriately depicting cultural markers that are not their own. It is a pattern that profits from blackness, while failing to reckon with endemic anti-blackness.
This is called "racism."
The following so-called trends in hair exemplify both the sneaky ways that racism can creep into our most mundane everyday practices — and learning opportunities for how to avoid them in the future.
1. "Plopping."
In June, Today Style hipped its broad readership to an exciting new way to promote curls and prevent frizz overnight:
"[Try] 'plopping' your curls into a cotton t-shirt, flour sack towel or even diaper cloths," the list read. "The key is to find a smooth, thin and absorbent wrap that will keep your tresses as sleek as possible."
Wrapping your hair at night to keep it from getting messed up? Sounds suspiciously like this thing black women have been doing forever called "wrapping your hair at night to keep it from getting messed up."
Tragic. 
2. "Bold braids."
But behold:
Bold! New! Epic! But really, it's unclear what Marie Claire thought was so "bold," "new" or "epic" about Kendall Jenner's cornrows last April — other than that they appeared on a rich, famous white woman after years of being worn by black girls and women.
3. Cornrows.
It runs in the family. 
Kendall's baby sister Kylie also caught flak for her cornrows earlier this summer, prompting a sharply-worded lesson in cultural appropriation from Hunger Games-star Amandla Stenberg:
"[When] u appropriate black features and culture but fail to use ur position of power to help black Americans by directing attention towards ur wigs instead of police brutality or racism #whitegirlsdoitbetter," Stenberg wrote in a comment.
4. Locks.
Miley Cyrus hosted the MTV Video Music Awards on August 30. This is what she looked like.
She complemented this unsolicited nod to black hair styles with a widely critiqued use of the term "mammy," and a public admonishment from Nicki Minaj over her response to Nicki's critique of racial double standards in the music industry.
That's three-for-three!
5. Afros.
Here's is an afro tutorial from Allure magazine's August issue, as reported by the Huffington Post. Because you (yes, you) can have one too!
In case you were wondering, "you" refers to white women, as evidenced by the white model being used to promote a hairstyle that is inextricably tied to black American culture and pride.
6. "Fall trends."
And in case you missed it, the big hair trend from last fall was this "craze" popularized by Bo Derek in 1979 but reinvigorated by Kristen Stewart, Rita Ora, Cara Delevigne and "frontrunner" Madeline Brewer, according to the Los Angeles Times.
It's called cornrows. You may recognize it from all the times black people have been wearing it forever.
7. "The Rachel" 2.0.
Remember "the Rachel"? Just in case your nostalgia does not include Friends, it was a hairstyle worn by white women in the 90s as a tribute to character Rachel Green, played by Jennifer Aniston.
But that was then. This is now:
Rachel Dolezal — the former head of Spokane, Washington's NAACP chapter who was recently exposed as a white woman — had a near-incalculable array of black hairstyles in her back pocket. So many that she told Vanity Fair much of her income now, after losing her job in the wake of her "outing," comes from styling other women's hair. Black hairstyles. For money.
Life can be educational, but also surreal.