The Fashion Runways We Should Really Be Watching Aren't in New York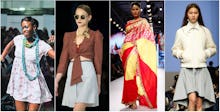 New York Fashion Week might be just around the corner, but it shouldn't be the only fashion week on your radar.
The major, formally designated Fashion Weeks such as New York might be popular, but they've become familiar scenes: already-famous designers, a regular cast of "street style" stars and a persistent lack of diversity on the runways. Around the world, though, lesser-known fashion "weeks" and events have been challenging the norm: showcasing diverse faces, spotlighting local designers and reminding us that "fashionable" has many meanings.
The best part? As the debate about cultural appropriation rages on in the fashion industry — from misusing Native American headdresses to questionable racial references — these shows have a distinctly local bend that goes straight to the source. Here are the "weeks" to watch that aren't in New York, Milan or Paris.
Africa Fashion Week London
Like New York, London is a well-established fashion hub. But instead of showcasing the designers whose names we all know, Africa Fashion Week London focuses on African and African-inspired designs from over 300 designers. Not all of the designers are of African descent, but they all work with an eye toward various elements of African heritage, paying homage in a thoughtful way.
This year featured an "Afrofusion" installation, which AFWL described as "the concept of African heritage fused with the rest of the world," and included themes such as "Africa meets Asia" and "Africa meets Middle East," resulting in creations like a dress made of braided hair and African-print Saris. 
Honolulu Fashion Week
Hawaii may be far removed from the world's fashion epicenters, but Honolulu Fashion Week is working to change that. The event, which will take place Nov. 20 to 22, is devoted to advancing Hawaiian talent from across the state — and not just designers; a model search will comb the islands for untapped potential. Events are free and open to the public, and a partnership with the nonprofit Reach the Runway will advance creative education for Oahu middle schoolers.
Mercedes-Benz Fashion Week Tokyo
Tokyo Fashion Week might share New York and Milan's big-name sponsor, but in Japan, there's a cultural twist. The event is hosted by the Japan Fashion Week Organization, and the designers often bring the best of Japanese tradition, from textiles to old-school techniques, to bear on modern designs. Plus, this week boasts some of the best style outside the shows; Tokyo street style looks like no other city's.
Lakmé Fashion Week
The designs at this Indian event, which kicked off just last week, evoke the country's traditions, with jewel tones and saris getting a modern twist. But eyes are also on the models' faces; Lakmé Fashion Week is partly organized by and named for India's largest cosmetics brand. The event includes 100 designers this year, and from all over India, in the epicenter of Mumbai but also Hyderabad, Bangalore and Delhi — which is pretty important, for a massive country with about 1.2 billion people.
Seoul Fashion Week
Seoul might not spring to mind as a fashion capital, but it's actually rising quickly. Karl Lagerfeld has come to visit, street-style photographers are swooping in and the city's style is inspiring tastemakers in the United States. Featuring local designers, Seoul Fashion Week brings the city's "buzzing" scene to the fore, especially the streetwear designers with passionate fan bases (including Rihanna).
Tel Aviv Fashion Week
Tel Aviv's fashion week may only be in its fourth year, but it's already been able to draw major names like Missoni, Roberto Cavalli and Vogue Italia editor-in-chief Franca Sozzani. The four-day event, formally called Gindi TLV Fashion Week, spotlights local designers, of which there are many thanks to amazing Israeli design schools like Shenkar College of Engineering and Design and Bezalel Academy of Arts and Design in Jerusalem.
Arab Fashion Week
This Dubai-based event is the first of its kind. Beginning in November, Arab Fashion Week will tap talent from a broad market that is less visible than the ones in Paris and New York: 22 countries in the Arab World, from Africa to the Middle East. While the designers haven't been announced yet, chances are you can expect high-fashion innovation alongside cultural staples — hijabs and fashion aren't mutually exclusive. (The photos above are from Dubai Fashion Week, a separate event.)
BMW India Bridal Fashion Week
You can see bridal runway shows in London and New York, but the shows in India provide a bold contrast: Instead of white dresses, it's all about red, a traditional bridal color in India. India Bridal Fashion Week hits several major cities in India and works to connect local dress and accessories designers — both established and emerging — with customers. 
São Paulo Fashion Week
Widely considered the fifth-largest fashion week in the world, São Paulo Fashion Week has been blasted in the past for its lack of diversity. So, in a bold move in 2009, the event established minimum quotas for black and indigenous models. Ever since, more diverse faces can be seen on the catwalks.
See, New York? It is possible to make some change.