Made in America 2015 Guide: Beyoncé and the Weeknd, Full Lineup and How to Live Stream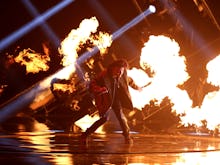 Festival season is quickly winding down as universities begin their fall semesters and work kicks back into full swing. But that doesn't mean music heads don't have time for one last hurrah.
Made in America 2015 is boasting arguably one of the best lineups of the season, with Beyoncé and the Weeknd headlining the event. The festival kicks off in downtown Philadelphia Saturday and Sunday and is expected to draw in thousands from across the nation for Jay-Z's annual weekend-long concert. 
The lineup is an honorable end to one of the biggest festival seasons in recent history. Performers taking over the several stages in Philly this weekend include J. Cole, Bassnectar, Modest Mouse, Big Sean, Meek Mill, A-Trak, Santigold, Vic Mensa and festival newcomer Jidenna, whose hit  "Classic Man" has catapulted the 30-year-old performer into the mainstream spotlight. 
Considering the breadth of artists performing this weekend in Philadelphia, Made in America created an iPhone app that allows users to create a custom schedule. The app coordinates which stages fans should be near at what times to catch their favorite performer's sets.
Of course, Beyoncé fans likely are excited to see her take the stage Saturday night. The "Flawless" singer has yet to perform in the festival circuit this year, and her headlining performance has been a highly anticipated spectacle since she posted the following photo from Coachella:
Beyoncé revealed she would be returning for her fourth performance at the annual festival by captioning the photo "See you in Philly #MadeInAmerica." The Weeknd is also set to headline the event Sunday night: his first festival appearance since releasing his latest album, Beauty Behind The Madness, on Aug. 28. 
Tidal, Jay-Z's music-streaming service, is offering live streaming coverage of the event via its official website. Although the festival has officially sold out, with 140,000 tickets sold according to its Twitter page, tickets are still available for weekend passes to the festival through StubHub, Ticketmaster and the event organizer's official ticket retailer, Live Nation. 
Mic will also be covering the event via its Snapchat account. Fans hoping to catch a glimpse of the festival and some of their favorite artists can follow the adventure by adding the username "MicDotCom" to their friends' list on the app.