How Joe Biden's Biggest Supporters Are Preparing for a Possible Presidential Run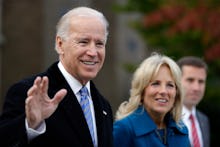 Even with the party establishment firmly entrenched behind Hillary Clinton and the progressive left continuing to rally around Sen. Bernie Sanders (I-Vt.), rumors persist that Vice President Joe Biden will crash the Democratic primary contest and make a late bid for that ultimate job promotion.
"The most relevant factor in my decision is whether my family and I have the emotional energy to run," he said on Thursday at a synagogue in Atlanta. "The honest to God answer is: I just don't know."
Biden's son Beau, the former attorney general of Delaware, died from brain cancer on May 30. In August, a source close to the vice president told the New York Times that Beau asked his father, in one of their final conversations, to promise he run one more time. 
A Biden candidacy would rattle the national political snow globe, sending money, operatives and maybe even some voters scrambling to reconsider their allegiances. Recent polls out of Iowa and New Hampshire suggest there is room for Biden, an unsuccessful presidential candidate in 1988 and 2008, to mount a late challenge to the frontrunners. Though, his decision is not expected for at least another few weeks, perhaps as late as mid-October. It has become increasingly clear that even a late bid would be greeted warmly by a cadre of battle-hardened campaign professionals.
If they build it, he might run: Draft Biden, a super PAC dedicated to building an infrastructure for Biden should he choose to run, has been adding to its ranks throughout the summer. The super PAC, created by 27-year-old Midwestern operative Will Pierce, recently hired senior adviser Josh Alcorn, who was a top ally and finance director for Beau Biden. Alcorn has a reputation as a fundraising savant, and his arrival signaled the beginning of a new phase in the group's recruitment effort.
Since the beginning of August, the Draft Biden petition has added 50,000 signatures, giving it a total of more than 200,000, according to ABC News. The group is anticipating a corresponding bump in its coffers. With Alcorn on board, the group has set a goal to raise between $2.5 and $3 million over the next month. (Draft Biden had raised just $85,880 as of its July FEC filing, including $38,000 from a single donor and $4,459 contributed by Pierce himself.)
New money means a bigger, more geographically diverse staff. Steve Schale, a top Democratic strategist who ran then-Sen. Barack Obama's 2008 Florida campaign and worked on his reelection bid, signed on as an adviser two weeks ago. Schale told Mic that Draft Biden's primary goal is to "build infrastructure in early states so that if [Biden] decides to run, he isn't starting from square one."
"We've raised enough money to begin staffing up in the early states, which is not an insignificant expense," he said on Wednesday. "So we're very much on pace."
Hours earlier, the group had announced the hiring of new, paid operatives in South Carolina, an early primary state. Schale said they planned to roll out more hires and prominent supporters in the coming days.
"We want to make sure if he says 'yes,' whether it's Sept. 15 or Oct. 1, or whenever that time falls, there's some people organizing, and he'll have a sense there are some volunteers out there who have his back," Schale said.
The path: Despite encouraging poll numbers and a lot of friends inside the Democratic Party, Biden would face immediate questions as a candidate about his relationships with top financial firms, many of which manage their books in his home state of Delaware because of its lax tax laws.
In a campaign season that's seen Wall Street watchdog Sen. Elizabeth Warren (D-Mass.) emerge as one of the most powerful Democrats on Capitol Hill and a self-described democratic socialist, Sanders, mount a serious challenge to Clinton for the party's presidential nomination, overt ties to the corporate class could prove troublesome.
Still, Biden's supporters are banking on his biography to shut the door on those unwelcome narratives. For decades, the vice president has sold himself as "middle class Joe," an everyman "who climbed out of a Scranton, Pennsylvania, coal mine with a lunch bucket in his hand," as he said on the campaign trail in 2012.  
"People can nitpick on votes here and there," Schale told Mic, "but when it comes down to it, Joe Biden is a guy who grew up in a working-class background who has never made an attempt to monetize his fame or success.
"I think it's really hard for anyone to make the case that Biden doesn't understand what people in this country are going through, because, with the exception of the fact that he now lives in government housing by law," Schale said, making reference to the vice president's official residence at the Naval Observatory in Washington.
Tough choices: After his wife and 18-month-old daughter were killed in a car accident weeks after he was first elected to the Senate at age 30 in 1972, Biden commuted daily between his home in Wilmington, Delaware, and his job in Washington.
"After the accident," Biden said in 2008, "[my mother] told me, 'Joey, God sends no cross that you cannot bear.'" Before Beau died, Biden routinely served as the administration's chief emissary to the wounded and grieving. At Beau's funeral, Obama delivered the eulogy.
"He is, as he's described it, a kid from a hardscrabble background, a working class family. Joe Biden offers a story that is very common to most Americans these days," Schale said. "A story of struggle, of heartbreak, perseverance and recovery."
If Draft Biden gets its wish, the next chapter — likely the last — could be a thriller.