Here's the Wild, New "Trend" That Has Women Tattooing Their Faces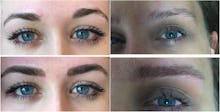 After filling her brows in with pencil and shadow for years, Pamela Lacy was intrigued when she heard about "permanent makeup." A procedure that promised she wouldn't have to fill in her eyebrows ever again was damn appealing.
The procedure itself, however, sounded a little scary: microblading.
What are "brow tattoos"? Also known as eyebrow embroidery, feathering or etching, microblading is just one of the "permanent makeup" procedures gaining popularity in recent years. Microblading is especially appealing lately, given the beauty trend for thick brows that can earn a "brows on fleek" Instagram hashtag.
But getting brows on fleek doesn't come easy. As the name suggests, microblading uses a very small blade to deposit pigment under the skin, giving the appearance of hair. It can be used by those who want to toss their eyebrow pencil, or it can be used in more extreme cases such as for patients with hair loss. The procedure can cost anywhere from $600 to $1200 and takes about an hour and a half to two hours, experts told Mic.
Microblading isn't actually permanent; it lasts about a year. But that might be just the right amount of time, considering many women are getting it for aesthetic rather than health-related reasons.
Marie Barbuto, a New Jersey-based registered nurse and certified aesthetic nurse specialist who performs the procedure, told Mic in a phone interview that she sees everyone "from serious illnesses such as cancer and alopecia to the Domestic Goddess." While the procedure can be used for more than just those trying to keep their brow game on point, many of her patients are using it for just that.
The murky regulation waters: Pamela Lacy is one of those women looking to up her self-confidence with the procedure, not to mention cut laborious brow-filling from her makeup routine. But she was hesitant and did her research beforehand, trying to find a nurse she could trust.
"It is certainly scary to have someone do something to your face that is 'permanent,'" she told Mic.
Barbuto was the "most professional, and she came across the most competent" out of the three people practicing microblading that Lacy spoke with, she said.
Doing that legwork is key, considering the procedure isn't exactly regulated. Barbuto told Mic that there isn't one single certification needed to practice microblading, rather it "lies on the customer to do their research." When done wrong by someone inexperienced, she said, "you can hurt someone and do some serious damage by disfiguring someone's face." 
The procedure, like other forms of tattooing, is not formally regulated by the Food and Drug Administration (the federal agency merely "monitors problems" with the tattooing industry). Tattooing is handled state by state, some of which have specific training requirements for permanent cosmetics.  The Society of Permanent Cosmetic Professionals issues certifications generally, and aesthetic nurse specialists who do it are board certified.
A growing trend? Tattooing your eyebrows has been around for several years, but is still a foreign concept for plenty of women, especially in the United States. Check Instagram for "before and after" photos of the procedure, and you'll see most of the photos appear to be from patients in Turkey or Germany with fewer American photos. 
The conversation around permanent makeup has recently focused more on lips, as women try to get that Kylie Jenner-inspired pout. One Cosmopolitan Australia editor recently underwent the procedure, which actually lasts eight to 10 years, and she loved it. 
"When I wake up in the morning, my face already feels 'done' but in a very natural way, and I save time applying liner and plumping lip gloss," she wrote.
But microblading seems to be picking up in interest here and in Canada, as skincare specialists all over Twitter tout the "new" service to their followers. Some may point out that beauty standards — particularly something as trend-specific as "power brows" — are mutable. But as far as tattoos go, microblading might be one of the safer, least permanent bets.
"[It] hurt a little, but wasn't bad," Lacy told Mic, saying she returned to work right afterward with her brows looking fuller and darker. She was so happy with the results, which earned her complements from people who used to comment on how tired she looked, that she went back to have her eyes and lips permanently lined.
It was "transformational," she said, "help[ing] me to feel better inside and out."