Here's How GOP Presidential Candidates Are Responding to County Clerk Kim Davis' Arrest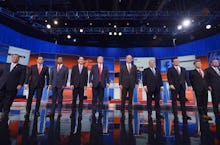 On Thursday, a federal judge found Kentucky county clerk Kim Davis in contempt of court and jailed her for refusing to issue marriage licenses to same sex couples despite a court order following June's Supreme Court decision. After citing "religious liberty" as her reasoning for her refusal, numerous politicians and Republican presidential candidates have come into the debate, many defending Davis and her religious freedom.
On Twitter and elsewhere, the candidates spoke their opinions on the controversial clerk. 
In an interview with the Huffington Post, Louisiana Gov. Bobby Jindal also echoed his conservative colleagues. "I don't think anyone should have to choose between following their conscience and religious beliefs and giving up their job and facing financial sanctions," he said. 
Nobody appeared more upset about the Davis imbroglio than former Arkansas Gov. Mike Huckabee. The candidate, who is popular among religious conservatives, took to Twitter to forcefully denounce her incarceration. In a series of tweets, he demanded action and vowed he would head to Kentucky on Tuesday. 
Other GOP presidential hopefuls however, did not share the sentiment. 
Former Florida Gov. Jeb Bush appeared to partially repudiate Davis' actions, telling journalists in New Hampshire, "She is sworn to uphold the law, and it seems to me that there ought to be common ground, there ought to be big enough space for her to act on her conscience and — now that the law is the law of the land — for a gay couple to be married in whatever jurisdiction that is," the National Review reported. Wisconsin Gov. Scott Walker offered similarly qualified language in a radio interview with Laura Ingraham.
New Jersey Gov. Chris Christie, South Carolina Sen. Lindsey Graham and former Hewlett Packard CEO Carly Fiorina also opposed the clerk, the New York Times reported. Fiorina said in a radio interview Tuesday according to the New York Times: 
"Is she prepared to continue to work for the government, be paid for by the government, in which case she needs to execute the government's will, or does she feel so strongly about this that she wants to sever her employment with the government and go seek employment elsewhere where her religious liberties would be paramount over her duties as a government employee?"
Davis began making headlines in July when she denied issuing marriage licenses to same-sex couples saying to do so would violate her Christian faith. The American Civil Liberties Union ultimately sued Davis, and when the Supreme Court declined to intervene, U.S. District Judge David Bunning found her in contempt of court and jailed her Thursday.
Davis remained in Carter County jail as of Friday morning. Her office deputies are expected to issue same-sex marriage licenses over her objections.