Timberland Just Showed Everyone How to Treat a Plus-Size Model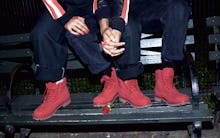 Timberland's new ad campaign for its limited Red Release Collection, which launches Friday, features 23-year-old Paloma Elsesser, a model, writer and all-around creative type who has long, raven hair and full lips painted a rich, apple red.
She's also a full-figured woman with an ethnically ambiguous look, in a media and fashion landscape that tends to favor slender, white models. 
But that's not even the most notable part. Elsesser's inclusion in a major campaign for a limited-release shoe stands out precisely because it wasn't called out at all.
"That wasn't even a factor," Minya Quirk, the BPMW Agency co-founder who produced the lookbook, told Mic. "It was like, Paloma's great for these reasons: She's really beautiful, she does tomboy style really well. People look up to her online for body positivity things."
Treating plus-size models like any other model: There tends to be endless media hoopla when a plus-size model gets her day in the mainstream sun. Cheers when Tess Holliday lands a contract with a top modeling agency, or headlines with Denise Bidot "flaunts her cellulite" in a swimsuit campaign — we trumpet just about any mention of a model who is plus size.
That cheering is for good reason, given how rare it is to see women above a size 2 in any fashion images. Take the fact that there were zero fashion magazines featured a plus-size model in its September issues, or that the Victoria's Secret Fashion Show still hasn't made way for a curvy model.
That's why it's all the more laudable that Timberland, a company known for its men's work books, went ahead and cast a model who might be considered "plus size" by fashion standards, without any fanfare at all.
That's the goal, after all, that advocates have been championing for: the seamless integration of all body types in fashion without the need to classify them. Doing so means models can be seen simply as models, advocates of #DropthePlus have argued, rather than segregated in their own "plus" category that only reaffirms the small-bodied norm.
Certain brands have proven it can be done. Vogue.com did a bra photoshoot with models in a variety of sizes and shapes without noting anywhere they were all plus-size models. Candice Huffine's inclusion in the Pirelli Calendar was lauded, but ultimately treated like any other photo within.
As for Elsesser, she never thought she'd be a inspiration to other women, especially after battling her own body insecurities, she told Interview magazine. The Angeleno turned New Yorker has a devoted following on Tumblr and Instagram that tunes in to her for a dose of body-positive inspiration. Her posts are a mix of selfies, outfit shots and throwback photos of her favorite '90s R&B icons — in short, like any other woman's.
"It's not that hard for girls to have followers — I think I'm a pretty girl and I also represent a different kind of pretty girl," she told Interview. "I represent a whole group of women and girls that for years hadn't been represented and are now being more valued."
Now they are, bit by bit. If more companies like Timberland start including models like Elsesser in their low-key, IDGAF way, young women will only have more badass role models to look up to.