The Image of a Drowned Syrian Boy Stopped the World —Here Are 13 More That Need to Be Seen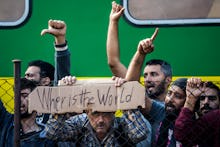 On Wednesday, the heartbreaking photo of 3-year-old Aylan Kurdi, who drowned during a failed attempt to flee Syria with his family and whose body washed onto a Turkish shore, went viral. The image produced international outrage at the ongoing refugee crisis and eventually prompted British Prime Minister David Cameron to open his country's borders in response to public pressure, after previously saying they could not accept more refugees.
While the image of Kurdi's body was dramatic enough to galvanize the world into action, his singular story is not an isolated incident. Hundreds of thousands of migrants and refugees are desperately trying to flee their war-ravaged countries, from North Africa to the Middle East and beyond. 
Here are 13 photographs of migrants and refugees attempting to flee to Europe from around the world — some of whom did not survive the journey. 
Warning: Some readers may find these images disturbing.
1. Syrian refugees sneak into Hungary by climbing underneath the barbed-wired border from Serbia. Sept 3, near Roszke, Hungary.
2. Hungarian police officers detain a refugee and her baby. Sept. 3, in Bicske, Hungary, 22 miles from Budapest.
More than 300,000 refugees have travelled across the Mediterranean in 2015 thus far, which is nearly a 50% increase over all of 2014, according to the United Nations High Commissioner for Refugees. In Syria, more than 7 million people — or around half the country's population — have fled their homes. 
3. Migrants fight over a bottle of water distributed by an aid worker. Sept. 3, in Idomeni, Greece, as migrants wait to cross the border into Macedonia.
4. As Syrian refugees wait on railway tracks at night to migrate from northern Greece into southern Macedonia, 19-year-old Abed Hadi feeds his baby nephew. Sept. 1, Idomeni, northern Greece.
5. The arm of a drowned migrant, who washed up on the Libyan shore. Aug. 28, Zuwara, Libya, 65 miles west of Tripoli. 
On Sunday, the European Union announced it will hold emergency talks on Sept. 14 on how to address the growing refugee crisis. The following day, German Chancellor Angela Merkel addressed the issue directly, according to Al Jazeera, saying, "If Europe fails on the question of refugees, this close connection with universal civil rights ... will be destroyed, and it won't be the Europe we want."
6. A Hungarian police officer stops and questions two Syrian boys after they crossed the boarder from Serbia. Aug. 31, Roszke, Hungary. 
7. Afghan refugees find temporary shelter in a half-built cinema complex. Aug. 18, Leros, Greece.
8. Syrian refugees wait on the train tracks to cross the Greek-Macedonian border. The unprecedented influx of refugees has resulted in frequent bureaucratic oversight, on behalf of Greek officials, meaning migrants get stuck en route due to incorrect transit papers.  Aug. 12, Idomeni, northern Greece.
9. A young migrant refuses to leave a Hungarian train station for fear of being taken to a refugee camp. Sept. 4, Bicske, Hungary.
10. The feet of an Indonesian migrant who drowned after their boat capsized and was discovered by Malaysian officials. Sept. 4, Hutan Melintang, Malaysia. 
11. The funeral for the Syrian boy, Aylan Kurdi, who drowned and washed up on the Turkish shore, and his brother and mother, who also died during the attempt to flee their war-torn country. Sept. 4, Kobani, Syria.
12. Migrants help an old man cross railway tracks. Sept. 3, Budapest, Hungary.
13. A refugee boy looks through the fence of an overcrowded migrant processing center in Serbia — more than 5,000 migrants entered the country in one night. Aug. 24, Presevo, southern Serbia.