Kentucky County Issues First Same-Sex Marriage License to James Yates and William Smith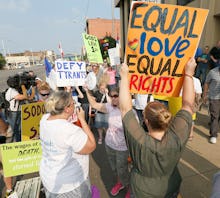 The office of Rowan County Clerk Kim Davis issued Friday its first marriage license to a same-sex couple.
James Yates and William Smith, whom Davis had previously rejected five times, became the first couple to receive licenses from the clerk's office. Photos taken from the scene revealed the emotion of the moment.
The ceremony was months in the making. After the Supreme Court's decision in June legalized same-sex marriage in Obergefell v. Hodges, most clerks around the country began issuing marriage licenses. However, a few, like Davis, refused, citing religious beliefs. After weeks of denial, the American Civil Liberties Union sued Davis, who was ultimately jailed for contempt of court but has stood steadfast in her belief. Her deputies began issuing the licenses, over her objections, in her absence. 
Now incarcerated, her case has sparked reaction from Republican presidential candidates. Some, like Ted Cruz, Mike Huckabee and Bobby Jindal, defended Davis on the grounds that she should not be imprisoned for her religious beliefs. Others' like Jeb Bush and Carly Fiorina, urged her to follow the law. 
For now, one of Davis' deputies is granting the licenses ad hoc under the title "Marriage License Deputy."