Arizona News Anchor Responds to Viewers Who Criticized Her Accent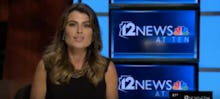 Vanessa Ruiz, the new head anchor for Phoenix's NBC affiliate, may have expected to face some criticism of her work as she transitioned into her job. But she likely didn't expect that her delivery of the news itself would be a point of controversy.
Viewers quickly noticed that Ruiz — who grew up in Colombia, went to high school in Spain and is bilingual — pronounced certain words with a distinct accent. Some particularly took issue with Ruiz's pronunciation of Mesa, Arizona's third largest city, and the way she "rolls her Rs when pronouncing Spanish words," the station's news director, Sandra Kotzambasis, told the New York Times on Friday.
Rather than let this ignorant criticism effect her, however, Ruiz said why she refuses to alter her pronunciation during a broadcast Wednesday night.
"Some of you have noticed that I pronounce a couple of things maybe a little differently than what you're used to, and I get that," she said. "I was lucky enough to grow up speaking two languages, and I have lived in other cities, in the U.S., South America, and Europe. So yes, I do like to pronounce certain things the way they are meant to be pronounced."
While she acknowledged that her insistence on correct pronunciation may "rub some people the wrong way," her intention was never to be "disrespectful or dismissive" but in fact to pay "respect to the way some of Arizona's first, original settlers intended for some things to be said," Ruiz wrote in a follow-up statement on the station's website.
Despite criticism, plenty support Ruiz's decision. "I think I kind of pumped my fist and celebrated," bilingual Arizona mother of three Viridiana Gonzalez told the New York Times of her reaction to Ruiz's statements. "Hey, look, she's not afraid of her heritage."
Others took to Twitter to thank the anchor for taking a stand.
Ruiz's decision to represent the growing population of Latinos in the United States and to honor the linguistic origins of Arizona's people and places is clearly inspiring to many in Phoenix and Spanish speakers across the United States. 
You can watch the full clip below:
h/t New York Times