Janet Jackson New Album 2015: Track Listing, Release Date and Lyrics for 'Unbreakable'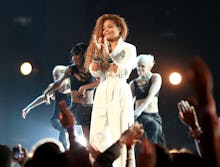 Janet Jackson appears set to release her first studio album in seven years — a lifetime in the Jackson universe. Jackson has given her fans a look at her latest album, titled Unbreakable, including its track list, release date and its eponymous second single, "Unbreakable."
Jackson's last album, Discipline, was released in 2008, making Unbreakable her first studio record since the death of her brother and pop legend Michael Jackson in 2009. Unbreakable is expected to drop Oct. 2, Spin reports. Jackson has said she'll release the album under her own record label, Rhythm Nation Records, making her the first black female recording artist to do so, according to BET.
The record label shares its name with Jackson's 1989 single "Rhythm Nation." "At Rhythm Nation, Janet plans to offer a home to both new and established recording artists," a statement on Jackson's website reads. 
Jackson's production team included songwriters Jimmy Jam and Terry Lewis. "It's wonderful to be creating again with Janet," Jam and Lewis said in a statement, Pitchfork reports. They said Jackson "truly personifies the word artist" and described Unbreakable as a "gift to all of her fans who have steadfastly stood by her." 
"It is a subject for conversation, a plea for compassion, and a call for action from someone who's come a long way, but's got a long way to go, and has much to say about it. In other words, if you want to know what's on her mind you only have to listen," they said. 
Here's what we know about Jackson's upcoming album, Unbreakable:
Track listings: Jackson has released two singles off Unbreakable, "No Sleep" and "Unbreakable." Among the artists who collaborated with Jackson were J. Cole and Missy Elliott, Vulture reports. Here's the latest 17-song track listing for the artist's new album:
1. "Unbreakable"
"Unbreakable:" Jackson shared "Unbreakable" with fans Thursday, giving them a taste of what to expect from her album. The song opens on a mellow note with just a few piano chords and Jackson's low voice before it explodes. 
"I've lived through my mistakes/ It's just a part of growing," Jackson sings. "And never for a single moment/ Did I ever go without your love/ You made me feel wanted/ I wanna tell you how important/ You are to me... Love." For the full lyrics, go here. 
Listen to "Unbreakable" here: