We Spend More Time Watching Netflix Than Eating or Fucking, New Study Shows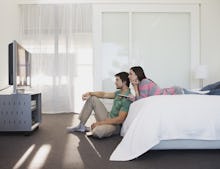 Americans looking for Netflix and chill are apparently not getting their chill on at all.
According to a new study conducted by TDG Research and published by Exstreamist, Americans who subscribe to Netflix spend an average of 90 minutes per day watching shows and movies on the platform. Comparatively, only an average of two minutes per day are spent in the act of intercourse. Call it "coitus interruptus by Netflixus."
That's not the only activity that gets overshadowed by our need to stream. Exstreamist's research shows that eating, reading, shopping and more also take a backseat to new episodes of Orange Is the New Black.
Americans only spend 70 minutes per day eating — about 22% less time than we spend watching Netflix. So neither our hunger nor thirst is being sated, all thanks to the allure of being able to watch two full episodes of Gilmore Girls. Sure, intimacy is important in every relationship. Is it more important than binge-watching Rory and Lorelai Gilmore's adorable antics for the fifth time, though?
Other activities that Americans spend less time on than their Netflix queues: answering phone calls, responding to emails and socializing with other people. Americans are apparently watching Netflix alone, emails piling up in their inbox as they can't resist letting the service auto-play the next episode — and the one after that.
With Netflix only growing larger each day, adding more and more beloved original series, chances are the amount of time spent watching will only increase. Before we know it, Americans will have to start scheduling their sex. Unwatched episodes of Daredevil await, after all.