Rand Paul Says Native Americans Would Have it Easier if They Just Assimilated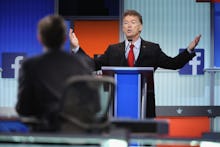 Here's why it's important to know your history.
In a Thursday interview with conservative talk show host Laura Ingraham, Sen. Rand Paul (R-Ky.), who is vying to be elected president of the United States next year, touched on the topic of assimilation.
Assimilation, for those who don't know, is the process by which a person or group changes over time to resemble another group — usually the dominant group.
Here is who Rand Paul says should do a better job assimilating in America:
"I think assimilation is an amazing thing," Paul told Ingraham. "A good example of how, even in our country, assimilation didn't happen — and it has been a disaster for the people — has been the Native American population on the reservations. 
"If they were assimilated," he continued, "within a decade they'd probably be doing as well as the rest of us. But instead, seclusion and isolating them — we took their land, and then we put them all on small quadrants of land."
Where to begin? Let's examine Paul's use of the word "disaster" here.
Few things seem more ironic than the idea of assimilation from those descendants of the people who invaded and stole an entire continent — which had been occupied by indigenous people for generations — and then subjected those same indigenous people to an onslaught of murder, rape, torture, plunder, broken treaties and forced relocation, framing Native Americans' alleged non-assimilation as the "disaster."
This is especially true considering brutal measures the U.S. government has taken to make Natives "assimilate" throughout history. These include establishing boarding schools designed to teach, force and even beat children's indigenous culture out of them. "Kill the Indian ... save the man" was their de facto philosophy.
From NPR:
The government operated as many as 100 boarding schools for American Indians, both on and off reservations. Children were sometimes taken forcibly, by armed police.
Others have pointed these out as well:
"Sen. Paul's statements hearken back to a disastrous era of federal policies that aimed to terminate tribal governments and eradicate Native American cultures," said PaaWee Rivera, director of Native American Engagement for the Democratic National Committee, in a press release. "His statements and attitude show his utter lack of historical and cultural awareness."
Paul doesn't have the most sterling policy record when it comes to Native Americans, either. Among the senator's detailed federal budget proposals from 2012-2014 are provisions that would eliminate the Bureau of Indian Affairs, which manages relations between the U.S. government and the more than 560 federally recognized Native tribes, and cut by 20% the budget for the Indian Health Service, which provides healthcare services to these tribes, Vox reports.
Paul also voted against reauthorization of the Violence Against Women Act in 2013, which would have given tribal governments the authority to prosecute non-tribal members for violence committed against Native women on tribal lands (the measure passed anyway).