This San Francisco Elementary School Is Doing Away With Gender-Divided Bathrooms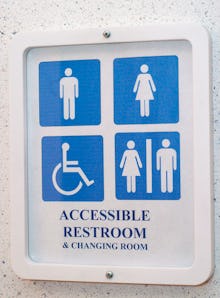 As this school year begins, students at San Francisco's Miraloma Elementary will notice something missing: gender-exclusive bathroom signs, the San Francisco Chronicle reports. 
Miraloma, a school of about 365 students, made the move to affirm about eight students who don't fit traditional gender norms — "kids who range from tomboys to transgender," principal Sam Bass told the San Francisco Chronicle.
Bass said bathrooms used by kindergarteners and first-graders will be converted to gender-neutral spaces. The plan is to phase out gender-divided bathrooms as the first grade class advances every year. When this first grade class enters fourth grade, all the bathrooms will have been converted to gender-neutral.
In a letter posted on Miraloma's website, Bass writes that the change was to allow all students to feel safe and supported, and comfortable to be who they are." 
California passed a law in 2013 requiring schools to allow students to use the bathroom best suited to their gender identity, a law San Francisco adopted a decade ago. But Miraloma's policy, Bass writes on the school's website, is "the first elementary school in the district to say [the law is] not good enough."
Alison Bennington, pro bono attorney for the Transgender Law Center in Oakland, told the San Francisco Chronicle, "It's rare for schools to remove the boy-and-girl stick figures from all restrooms." 
The move toward the new restroom policy comes on the same week of reports that South Dakota state Rep. Roger Hunta will introduce a bill requiring "visual inspection" of transgender athletes before they step onto the field, as well as reports in Missouri that 150 teens walked out of a locker room when a transgender classmate tried to use the facility during gym class.
A 2014 CBS News poll showed that 59% of Americans agree that transgender people should use bathrooms based on the gender they were assigned at birth, not the bathroom corresponding to their gender identity.
However, in San Francisco, the policy has been embraced. Bass reported no pushback from parents. "One parent said, 'So, you're just making it like it is at home,'" he told the San Francisco Chronicle.
For a handful of students, potty time is no longer anxiety-inducing. The parent of one first-grader who identifies as a boy but prefers to wear long hair and traditionally female clothing told the San Francisco Chronicle about how the simple act of going to the bathroom has been difficult on her child. At summer camp, he was so distraught by the potential challenge of boys' or girls' bathrooms that he urinated on himself instead.
"He was struggling with it quietly," the mother told the paper. Now, "he can just use the restroom without thinking about it."