Pink Slams Miley Cyrus and 2015 MTV VMAs, Stands Behind Comments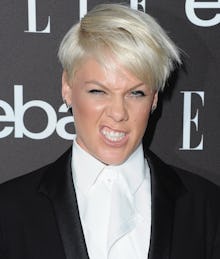 Twitter has been a battleground for celebrities surrounding the MTV Video Music awards this year. First, it was Taylor Swift vs. Nicki Minaj. Then, host Miley Cyrus felt the need to add fuel to the fire. Now, Pink decided to end the war, once and for all.
After the awards show came to a close Sunday night, Pink said she felt "embarrassed" by the music industry, as well as "sad" and "old," according to E! News.
"But in all seriousness; I felt sad because music is supposed to inspire. It saved my life," Pink wrote in a post to a fan that has since been deleted. "This trash won't save any kids life. In a world that is even scarier and with lives still worth saving, who will stand up and have soul? Disenfranchised to say the least."
"Beside Macklemore and Pharrell and Bieber and the Weeknd, Tori Kelly was dope too. The rest was gross and embarrassing and hard for this aging pop star to believe," Pink wrote.
Pink tweeted her frustrations surrounding the awards show before taking down several of her posts after receiving backlash for her thoughts. However, Pink isn't one to back down in any fight, even if it was unintentional. After all, she's still a rockstar.
The feud seemed to pit Cyrus and Demi Lovato against Pink as fans took the "So What" singer's quotes as personal attacks at the two performers. Even Lovato took the quotes to heart, posting a rebuttal to her Twitter account Friday:
Pink reassured fans she doesn't actually have any beef with Lovato, or any of the other performers for that matter.
However, Pink decided to turn things around, abruptly ending the feud on a rather light note: