Nicki Minaj Jersey Club VMAs Remix Is the Diss Track the Internet Has Been Waiting For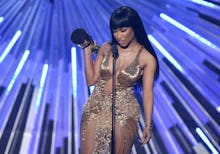 Nicki Minaj doesn't need to make a Miley Cyrus diss track following Cyrus' controversial quotes about the "Feelin' Myself" rapper. The Internet has already taken care of that for her. 
A New Jersey club remixing the moment Minaj called out Cyrus at Sunday's MTV Video Music Awards for mentioning her in the press has surfaced on SoundCloud this week, and seems to perfectly capture Minaj's thoughts on the VMA host.
Source: Soundcloud
"You know, this is so random, you know who I want to thank tonight? My pastor," the remix begins, as Minaj accepts her best hip-hop video award. "Thank you, Pastor Lydia. I love you so much. And now, back to this bitch that had a lot to say about me the other day in the press. Miley, what's good?"
The controversy began when Cyrus decided to throw her name into an all-out Twitter war taking over timelines and news feeds across the world. "I think there's a way you speak to people with openness and love," Cyrus told the New York Times in an article published Aug. 27. "You don't have to start this pop star against pop star war. It became Nicki Minaj and Taylor in a fight, so now the story isn't even on what you wanted it to be about. Now you've just given E! News 'Catfight! Taylor and Nicki Go at It.'"
The "Wrecking Ball" singer then went on to slam Minaj, saying the "Anaconda" rapper isn't considered kind among those who know her.
Although Minaj gave Cyrus a mean mug and a few choice words, the rapper has yet to say anything else regarding the matter. In fact, the confrontation seems to have worked in her favor.