How to Live Stream the Made in America 2015 Music Festival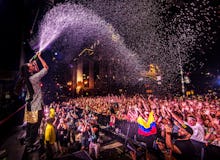 Beyoncé and the Weeknd are headed to downtown Philadelphia, along with some of the biggest names in the music industry, for one of the last major festivals of the season. Fans everywhere are expecting Made in America 2015 to be one of the wildest weekends of the summer. 
The festival kicks off Saturday and Sunday, and more than 140,000 tickets have already been sold. Although Made in America is officially sold out, fear not: Tidal is offering a live stream for subscribers to see their favorite artists onstage this weekend.
Fans who weren't able to purchase tickets can head to Tidal's official website, where a live stream will showcase each performance.
Of course, audiences will have to purchase a monthly subscription in order to watch the live stream. New users can sign up for a free month of Jay Z's music-streaming service and glimpse the live streaming options (Made in America is also a Jay Z project). 
Among the weekend's highly anticipated performances... is the Weeknd, who recently released his latest album, Beauty Behind the Madness. The 25-year-old performer has quickly become one of hip-hop's most notable crooners, with fans referring to him as the next Michael Jackson.
Fans can also follow Mic on Snapchat, which will be covering the event throughout Saturday's performances. Add the handle "MicDotCom" to your Snapchat friends list for inside coverage, including Beyoncé's headlining set.