This Invention Could Revolutionize the Way We Play Guitar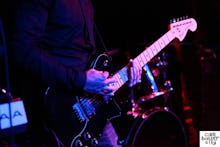 Obsessing over tone is an essential part of being a guitarist, and for good reason. A heavy metal guitar is not equal to a jazz guitar, which in turn is not equal to a guitar designed to play country. The pickups, the strings, the body; every detail plays a role in building the character of the sound. 
Trying to assemble the perfect guitar for every situation is a pipe dream for most musicians. Most would likely bankrupt themselves paying thousands of dollars to collect the perfect armada of guitars to own every genre they want to play. Yet, there's one company working to bring this dream of high-end guitar customization to the people.
Strassell Guitars — a small, New York City-based company founded by Andrew Strassell — has come up with a way for guitarists to essentially turn a single guitar into dozens. Using new 3-D printed technology and a specially designed body, guitarists can swap out the pickups on a Strassell guitar without any effort, instantly turning their tone from clean and twangy to fuzzed out and beefy in seconds. Crafting a nuanced and precise tone may no longer be solely a pastime of the elite.
Creating a new kind of instrument: Strassell has been building and modifying guitars ever since he got his first model at 13. He has always wanted to use his tinkering to make an impact on the guitar world. He conceived of this idea about three years ago while lying in bed one night. 
"I was thinking, 'How could I innovate the guitar? How could I change the normal way of doing things?'" he told Mic.
On a normal guitar, changing pickups is an extremely time-intensive process that involves taking off the strings, taking apart the body and rewiring a whole bunch of components. Strassell saw the most potential for innovation in the pickups, creating a guitar that simplifies said process into an action no more complicated than changing a game cartridge in a Nintendo 64. The guitar's custom built body and 3-D printed carriage allow guitarists to simply push the pickups out through the back of the guitar and swap in another pickup cartridge.
The idea is still in its infancy. Strassell worked on his guitar at nights and during weekends while holding down a full-time job at an ad agency. He tried hundreds of designs before the winning design started to come together. Now, he runs the company out of his Brooklyn apartment, with plans to expand into a small workshop within a year should his idea gains traction. 
For the moment, Strassell Guitars just builds models on a custom, case-by-case basis. Though Strassel has thrown together an Indiegogo campaign to attempt to boost production to the next level.
Only a few guitars utilizing this technology currently exist. One, a custom Flying V, belongs to Josh Shabtai of the Brooklyn-based, dance rock band Controller.
"I've always been looking for crazy-looking guitar sounds, always playing around with a battery of effects," Shabtai told Mic. 
His group's music crosses indiscriminately between an indie-dance feel akin to the Killers and grimier noise rock. Strassell's pickup system helps him use a single guitar to create even more contrast between the styles. "I was psyched to get this ready for the new songs in the studio," he said. "A lot of them I'll move from playing rhythm part and pop out [the pickups] to get some tripped-out delay effects."
Shabtai is exactly the kind of musician Strassell is trying to get his guitar to.
"Local bands — that's the group of people who are going benefit most from this," Strassell said. "They no longer have to go out and spend $1,500 on a Les Paul that they're never going to want to take apart, because they spend $1,500 for it. It's more high end than a cheap Korean-built guitar, and this gives you far more options."
The way he's built the guitar also works for a lot of other nuanced effects. One could rotate the pickups 180 degrees to reverse the polarity to create some subtle phase effects. The only way one could do that with a normal guitar would be to tear the whole thing apart and rewire the hardware.
Strassell believes this kind of innovation — rethinking the ways a guitar can be built from the ground up — is exactly what the instrument needs right now.
"The industry is lacking innovation. More and more people are moving away from playing guitar, and I think it's a staple of music," Strassell told Mic. "The industry hasn't pushed the innovation agenda. They've relied far more on, 'Oh, here's the reissue of the thing we did in 1960.' I think there's a demand for innovation in their instruments and figuring out a new way."
The feedback he's received from guitarists and technicians proves there is some serious interest in what he's built. He said he hopes his invention will also show the world there are few limitations holding back what the guitar can become.
Visit Strassell Guitars' website and view the company's Indiegogo campaign to learn more.