Nearly 70 Years Later, We Still Haven't Seen a Vocalist as Dynamic as Freddie Mercury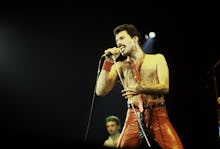 A handful of people saw a ghost during Macklemore and Ryan Lewis' performance during last Sunday's broadcast of the VMAs. Following Macklemore's moped-centric first verse to "Downtown," a singer who looked and sounded strikingly like Queen's Freddie Mercury appeared in frame. 
The singer was Eric Nally of on-hiatus Foxy Shazam, but Twitter only saw the miraculous Mercury:
Though he died nearly 25 years ago, Mercury left a void in the music scene that remains vacant. 
Saturday would have been Mercury's 69th birthday. As talented as Nally and the rest of rock's boldest singers are, music has still yet to encounter a singer whose voice and presence measure up to the dynamism Mercury brought to every show. He rewrote the rules for what a rock performance could look and feel like, and every band focuses on vocals in their act owes him an incredible debt.
The perfect performer: At the height of their powers, Queen was far and away one of the biggest rock acts on the planet — and it was nothing without Freddie Mercury. His flamboyant onstage antics drove audiences wild, though none of the frenzy ever surprised Mercury. 
"I always knew I was a star," Mercury said in 1977. "And now, the rest of the world seems to agree with me."
Queen filled stadiums around the world, becoming the first major rock band beloved enough to tour South America in 1981. There, they broke a world record for most concert attendees at São Paulo's Morumbi Stadium in Brazil. A few years later, they slayed at 1985 Live Aid at London's Wembley Stadium, which a 2005 industry survey declared the best rock concert of all time.
"The difference between Freddie and almost all the other rock stars was that he was selling the voice," said Montserrat Caballé, a famed Spanish soprano with whom Mercury once recorded a duet album. "His technique was astonishing. ... His phrasing was subtle, delicate and sweet or energetic and slamming. He was able to find the right coloring or expressive nuance for each word."
Mercury took that vocal nuance and applied it to every style imaginable. He dabbled in ragtime, Caribbean, rockabilly, disco and dance. He boldly mixed the theatricality of opera with rock 'n' roll in ways many refused to believe would work at the time. In today's pop climate, an unfortunate glut of artists simply retread standardized pop conventions to ensure their songs will hit. In contrast, Mercury's vision was a gift without parallel.
It seems impossible to fathom now, but his managers and bandmates once tried to stop his most-epic creation "Bohemian Rhapsody," which contained a mind-blowing 180 separate vocal parts, from becoming the lead single off their 1975 album A Night at the Opera — but Mercury insisted. 
To this day, it makes for the greatest sing-a-long fodder the world has ever had the pleasure to belt. Few hit it with his incredible range, though, which notably stretched over four octaves.
Even when facing death, Mercury insisted on sharing his voice with the world. While recording the band's 1990 hit "The Show Must Go On," Mercury's body was so drained due to complications from AIDS he could barely walk. However, he could still sing. 
"I said, 'Fred, I don't know if this is going to be possible to sing,'" Brian May, Queen's lead guitarist once shared. "And he went, 'I'll fucking do it, darling' — vodka down — and went in and killed it, completely lacerated that vocal."
Singers have tried to live up to it, but Mercury's legacy is a difficult one. Besides his wife and daughter, Freddie Mercury was the only other person Kurt Cobain mentioned in his suicide note. Mercury "seemed to love, relish in the love and adoration from the crowd," Cobain wrote, "which is something I totally admire and envy."
The world may never see a performer with the same brash confidence and expressive power as Freddie Mercury, but he doesn't need an imitator. His music will undoubtedly continue to inspire artists of all varieties. Most importantly, his spirit will always be present in popular music, even if he is not.