Damon Wayans Just Gave a Truly Disturbing Defense Against Bill Cosby's Rape Allegations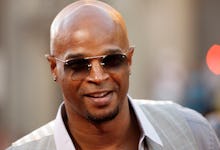 Comedian Damon Wayans shocked a radio audience on Friday while defending accused serial rapist Bill Cosby, telling Power 105 Breakfast Club co-host Angela Yee that some of the "bitches" now saying Cosby assaulted them were "un-rape-able."
During the appearance on the show, Yee asked Wayans how he would advise Cosby's response to allegations he drugged and raped at least 51 women throughout his decades-long career. Wayans' response left much to be desired, reports Gossip Cop.
"If I was him, I would divorce my wife, wink wink, give her all my money, and then I would go to a deposition, I'd light one of them three-hour cigars, I'd have me some wine, and maybe a Quaalude, and I would just go off, because I don't believe he was raping," Wayans said.
"I think he was in relationships with all of them, and then he's like, 'You know what, it's 78, I can't get it up for any of y'all, bye bitches,'" he added. "And now they're like, 'Oh, really? Rape.' Forty years — listen, how big is his penis that it gives you amnesia for 40 years?"
"But if you listen to them talk, they go, 'Well, the first time.' The first time?! Bitch, how many times did it happen? Just listen to what they're saying."
"And some of them, really, is un-rape-able. I look at them and go, 'No, he don't want that. Get outta here!"
Wayans said the women accusing Cosby were engaging in a "money-hustle," adding that if any women had actually been raped by Cosby, "my heart goes out to them [...] You other bitches, look."
Wayans also asked whether a man would enjoy sex with a woman who was asleep and could not consent, and said some people might be criticizing Cosby as a pretext to criticize young black men.
Watch the video below:
h/t Gossip Cop