An Egyptian Billionaire Is Offering to Buy a Mediterranean Island for Syrian Refugees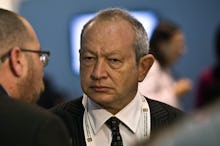 One of Egypt's richest men has declared he is seeking to solve the ongoing Syrian refugee crisis by purchasing a Greek or Italian island and building a settlement there for hundreds of thousands of refugees.
Naguib Sawiris, a telecom magnate Forbes estimates is worth $2.9 billion, announced the plan on Twitter in early September and has subsequently announced he will be devoting resources to making it a reality.
Sawiris says he is now looking for the appropriate island, which he told Agence France-Presse would cost between $10 and $100 million, but would require additional funds for infrastructural spending and aid to the refugees. He has a name for the theoretical refugee nation: Ilan, after the young child photographed found on the Turkish shore after drowning in an attempt to flee war-torn Syria.
"Of course it's feasible," Sawiris told AFP. "The way [refugees] are being treated now, they are being treated like cattle."
The continuing civil war in Syria has displaced almost half of the country's population, according to United Nations estimates. Atrocities committed by the Syrian government headed by Bashar al-Assad, and his bitter rivals in the Islamic State group, as well as by the various militant groups that control large swaths of the country, have displaced more than 11 million people.
Some U.S. senators have urged the U.S. to take in tens of thousands more refugees, but have faced immense criticism for doing so. Many of Syria's neighboring countries have done little at all. 
Sawiris is not the first rich person to suggest the idea of building a nation for the stateless. Millionaire California real estate tycoon Jason Buzi proposed a similar plan earlier this year. He earned some mockery but also warnings from academics that the idea should not be ignored, despite potential issues such as whether the new territory would truly be a hospitable place for displaced persons or become a massive, deprived refugee camp.
"The proposal for a Refugee Nation should not be totally dismissed," University of Oxford refugee and forced migration expert Alexander Betts wrote in the Guardian. "First trusteeship offers a historical precedent [...] during the inter-war period the League of Nations managed territories in the collective interest, and such an idea might be used today to host and protect refugees."
"Even if the current proposal is flawed, innovative and creative solutions to refugee challenges must be welcomed. Political leadership and imagination are certainly needed more than ever, and if Buzi's ideas can trigger that his presence in this debate could offer a valuable intervention."