Police Say Torching of Planned Parenthood Clinic in Washington Was an Act of Arson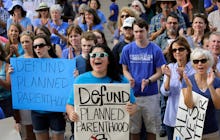 Investigators looking into a fire that consumed a Planned Parenthood center in Pullman, Washington, on Friday have concluded that the blaze was the result of arson.
The Inland Northwest Joint Terrorism Task Force told KREM 2 the fires, which began at around 3:30 a.m., began as fire and burglary alarms were tripped inside the clinic. They deemed the fire suspicious because Planned Parenthood Federation of America, which provides access to reproductive, maternal and children's health care services, has often been targeted in the past by political extremists angry that PPFA is an abortion provider.
Now police are certain it was an act of arson.
Weeks ago, the clinic was surrounded by an estimated 500 pro-life protesters.
"This is an appalling act of violence towards Planned Parenthood, but unfortunately a predictable ripple effect from the false and incendiary attacks that fuel violence from extremists," Karl Eastlund, CEO of Planned Parenthood of Greater Washington and North Idaho, told KREM 2.
According to KREM 2, both the Federal Bureau of Investigation and the Bureau of Alcohol, Tobacco, Firearms and Explosives are investigating the fire.
Planned Parenthood clinics have seen a wave of renewed protests in recent weeks after a group calling itself the Center for Medical Progress released eight videos designed to implicate PPFA personnel in the illegal for-profit sale of fetal issue. Critics say the videos are deceptively edited and show no actual wrongdoing, but are instead part of a coordinated attack on the organization. 
The controversy generated a furor among conservatives, including both hostile coverage on conservative media outlets and various legislative attempts to strip PPFA of government funds. Republicans in the U.S. Senate tried and failed 53-46 to strip PPFA of its federal funding after the videos were released.