Finland's Prime Minister Just Offered Up His Home to Help House Syrian Refugees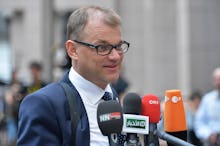 Prime Minister Juha Sipilä of Finland has offered his spare home to refugees fleeing the civil war in Syria.
Deutsche Welle reports Sipilä announced on Saturday his central Finland home in Kempele, which has been in disuse since he and his wife moved to the capital in Helsinki, will be used to take care of displaced persons in Finland.
"We should all look in the mirror and ask ourselves how we can help... My house is not being used much at the moment. My family lives in Sipoo and the prime minister's residence is located in Kesaranta," Al Jazeera reports Sipilä told state media. 
"I ask everybody to stop all hate speech and concentrate on taking care of people that are fleeing from war zones, so that they feel safe and welcome here in Finland," Sipilä said on MTV Finland. "We all should think what we can do ourselves. The more citizen activity we can find to [resolve] this matter, the better."
He also said every refugee "deserves a human treatment and genuine welcome greeting from us Finns."
Photos show Sipilä's large and disused home in Kempele:
The prime minister's offer is likely to strike a chord in Europe, where many have admitted countries need to do more to care for the more than 4 million Syrians who have fled their war-torn country, though anti-immigration fervor has stifled efforts to actually let them in.
Additional migrants have mainly come from Iraq and Afghanistan.
Last week, the Finnish government said it expected to house 30,000 displaced persons this year, nearly ten times the number it admitted last year.
The effort to tamp down hate speech also comes at a time when some Finnish people are angry over the prospect of absorbing the refugees.
Sipilä's center-right coalition includes the populist Finns Party, which has struck a tough-on-immigration stance. In late August, more than 200 Finns protested at an asylum-seeker center in the town of Salo, with some members of the crowd saying more refugees would strain the country's economy, disproportionately impact those already poor and raise taxes.
Parliamentarian Olli Immonen of the Finns Party temporarily resigned in August amid public outcry after he posted a Facebook update, in which he called for a "strong, brave nation that will defeat this nightmare called multiculturalism."
European countries in general have finally started admitting larger numbers of displaced persons this week after photos of a dead Syrian child on the shores of Turkey sparked international dismay. Germany, Austria and Hungary in particular have all begun processing large numbers of refugees.